Ridiculous Video Captures Man Flipping Out Over Pokémon Go Players in Veterans' Park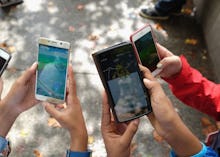 Not everyone wants to catch 'em all.
A video uploaded this week to YouTube captured an angry man who says he served in Vietnam and a cohort of others as they confronted a group of younger Pokémon Go players for allegedly taking over Veterans Memorial Park in Winona, Minnesota.
"These are like fucking gravestones over there!" the veteran tells the budding trainers.
When one of the Pokémon trainers responds with "no it's not," the veteran reacts by shoving him.
"Go on, record it!" he yells. "Can you record it when I fucking knock you out? You gonna record your own knockout? ... I don't give a shit if I go to jail or not!"
Later, he knocks down the group's canopy, "so maybe you guys will think this is fucking serious or not!" One of them responds by saying they don't, in fact, take him seriously.
According to Forbes, the video since went viral on Reddit, with some users siding with the veterans who say the use of the park for Pokémon is disrespectful, while others contested the veterans should be pleased more people want to use the space.
The Winona Daily News reports the Winona City Council is considering measures to keep Pokémon Go players out of the park, including "prohibitions on hammocks and tents, sleeping and sunbathing, recreational activities and games (electronic or not), having pets in the area and playing music." According to the paper, players have been congregating in large numbers at the park on a daily basis since the game was released weeks ago.
Read more: