When Are the Winter Olympics? Dates, Host Country and Other Facts About the Upcoming Games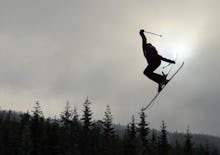 While everyone is gearing up for the 2016 Summer Olympics in Rio, do you find your mind drifting to chillier prospects? If snowboarding, alpine skiing and ice hockey are more your speed, never fear: the 2018 Winter Olympics in Pyeongchang, South Korea are on their way.
Dates
The games will begin with opening ceremonies in Pyeongchang on Feb. 9, 2018, and will span until Feb. 25. The Paralympic Games will follow, beginning on March 9 and lasting until March 18, 2018.
And since South Korea is 13 hours ahead of Eastern standard time, expect to be staying up very late — or waking up extremely early — if you live in the western hemisphere and want to catch the competitions.
Pyeongchang, South Korea
On July 6, 2011, the International Olympic Committee (IOC) voted that Pyeongchang would be the location of the 2018 Winter Olympics.
On the Olympics website dedicated to the 2018 Winter Olympics, Pyeongchang's plan for the games is described as to offer "a legacy of new growth and new potential never seen before."
"With PyeongChang's strategic position in Asia, and its access to a young and fast growing youth market, the 2018 Olympic Winter Games will no doubt expose new generations of potential athletes to the power of winter sport," the description reads.
Soohorang
No Olympics would be complete without a lovable mascot to represent it, and luckily for us the South Korean games have two: Soohorang, a white tiger, and Bandabi, an Asiatic black bear repping the Paralympic Games.
According to the Olympics' official website, Soohorang was chosen because the white tiger has close ties to Korean mythology. In folklore, the animal represents trust, strength and protection, and is viewed as "a guardian that helped protect the country and its people."
Read more: