Is Donald Trump Trying to Wriggle His Way Out of Debating Hillary Clinton?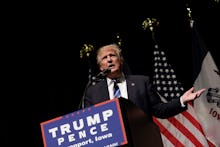 Is Republican presidential nominee Donald Trump hinting he won't debate his Democratic opponent Hillary Clinton?
That's certainly the message some observers ascertained from a tweet Trump sent out to his 10.5 million Twitter followers on Friday night.
"As usual, Hillary & the Dems are trying to rig the debates to 2 are up against major NFL games," Trump wrote. "Same as last time w/ Bernie. Unacceptable!"
Numerous outlets including Mediaite, Gawker and Talking Points Memo noted the similarity between the tweet and Trump's complaints about the Republican National Committee's debate schedule earlier this year. After the candidate demanded the removal of Fox News host Megyn Kelly as a moderator for the Jan. 28 debate, saying their well-known feud irreparably biased her against him, he made good on threats to not attend and instead threw his own event.
"Hillary & the Dems" had no direct role in the planning of the debate schedule. Instead, a nonpartisan commission called the Commission on Presidential Debates which is organized by the Democratic and Republican parties set the schedule in September 2015, well before the primary debates even began.
Though the CPD has a history of criticism — namely from third parties, who feel the system is rigged to exclude other parties from the electoral process — as Gawker noted, football games take place on Sundays, Mondays and Thursdays, and TV ratings are too low on Fridays and Saturdays to hold a debate. That would leave Tuesdays and Wednesdays as the only viable "Trump-approved days."
The CPD, of course, has no role in dictating the NFL fall schedule.
The RNC, which Trump once criticized for its role in debate planning, has seemingly fallen into line after the party's nominating convention last week.
RNC spokesman Sean Spicer took to CNN Saturday morning to say "the entire [debate] system needs to be relooked at ... You look at the debates being on major NFL nights and you wonder why people are upset about that? This was a dumb idea and should be revisited."
It's clear why Trump might want to get out of a debate with Clinton. Unlike the hostile Republican primary debates, which saw upwards of a dozen candidates trading barbs and insults, presidential debates tend to be more substantive and in-depth. They would also be one-on-one. Clinton, with a lifetime in public policy and governance, thus has a substantially improved position to challenge the Republican nominee compared to most of his primary opponents.
Or maybe Trump doesn't want to cancel at all, just let it be known he like, totally could if he wanted.
Like the prior debate cancellation, there's likely two aims here: One is whichever complaint Trump can come up with, and the other is demonstrating Trump is too "strong" to accept a rigged deal. At the end of the day, skipping presidential debates with Clinton is unlikely to go down with general election voters as well as it did with Republican primary ones — and knowing Trump, he's probably biting at the chance to get on stage with her.
Read more: