Kentucky Judge Amber Wolf Slams Jail for Sending Woman to Court Without Pants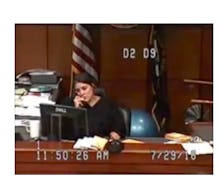 A Kentucky judge was so outraged to see a female defendant brought to her courtroom without pants, she called up the local jail to find out how this could even happen in the first place.
Judge Amber Wolf was presiding over the sentencing of a black woman picked up for shoplifting Friday when she realized the defendant was not wearing pants, according to Fusion. 
In the video, Judge Wolf appears to be shocked and picks up her cell phone to call the county jail herself.
"What the hell is going on? This cannot happen," she says in the video, that was uploaded to YouTube.
"She's been in our jail for three days, and reports to me that the jail has refused to give her pants and feminine hygiene products," Wolf said over the phone.
Wolf asked that something be found for the woman to cover up with. In the video, the defendant eventually appears to change into a yellow jumpsuit. 
According to WDRB, a Metro Corrections official said the defendant was in fact wearing shorts under a long shirt, but should have been given a jumpsuit. 
Judge Wolf reduced the woman's sentence to time served and gave her a $100 credit towards her fine. 
"I just want to tell you how incredibly sorry I am that you've been treated this way," Wolf told the woman. 
Metro Corrections said they are investigating why the woman was not given a jumpsuit.
Read more: