Olympics Opening Ceremony 2016 Livestream: How and Where to Watch Rio's First Day Online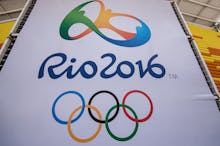 The first-ever South American Olympics kicks off in Rio de Janeiro on August 5. Though women's soccer begins on Aug. 3, Friday will herald in the official commencement of the games with the Opening Ceremony. 
Here's everything you need to know about how to watch Rio's historic first day online.
Start time:
The opening ceremony will begin at Maracanã Stadium at 8 p.m. BRT (Brazil time), meaning they will air at 7 p.m. Eastern. 
How to watch:
NBC's broadcast of the games, delayed by half an hour, will air at 7:30 p.m. Eastern. According to USA Today, the network's decision to delay airing the footage has actually drawn the ire of some who claim that the locality of the Rio Olympics — just one hour ahead of EST — doesn't justify a delay.
For its part, NBC has said that the gap in footage exists to provide viewers with "context":
"These Opening Ceremonies will be a celebration of Brazilian culture, of Rio, of the pageantry, of the excitement, of the flair that this beautiful nation has," NBC Sports Group chairman Mark Lazarus said during a Monday announcement, according to USA Today.
"We think it's important that we're able to put that in context for the viewer so that it's not just a flash of color."
How to stream:
If you don't have a TV, it will still be possible to livestream the festivities. NBC will provide 4,500 total hours of livestream footage for verified cable subscribers via NBCOlympics.com and the NBC Sports app.
Read more: