When Does Michael Phelps Swim? Here's the Famed Swimmer's Rio Olympics Schedule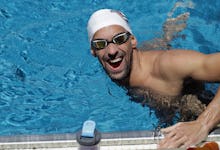 It's been just four years since Michael Phelps — the most decorated Olympian of all time — said that he would retire after the 2012 Summer Olympics in London, and two years since he announced that he would come out of retirement to hop back in the pool for the 2016 Rio games.
At age 31, Rio will be Phelps' fifth, and presumably final, Olympics. And when it comes to the man who already has 18 gold medals and 22 overall medals to his name, one thing is certain: you won't want to miss a second of his competitions. 
Here are the dates you can catch him, per Syracuse.com:
Aug. 8 – Men's 200m butterfly prelims/semifinal
Phelps will also probably compete in some of the relays, which are scheduled for the following days:
Aug. 7 -- 400 freestyle relay
Read more: