When Does Usain Bolt Run Next? Here's the Famed Runner's Rio Olympics Schedule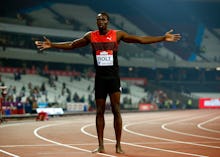 Usain Bolt is the fastest man in history.
The Jamaican runner made world history in Berlin in 2009 when he shattered the record for the fastest 100m, covering the distance in just 9.58 seconds.
There's no question that Bolt is the star of track and field sports. The 29-year-old has taken home gold six times, for 100, 200 and sprint relays in 2008's Beijing games and 2012's London games. 
For the 2016 Summer Olympics in Rio de Janeiro — Bolt's last before retirement in 2017 — you can expect him to show off his gold-standard abilities. 
To make sure you catch what is sure to be a blink-and-you'll-miss-it performance, check out Bolt's race schedule below:
Aug. 13 – 100m (Round 1)
Let's hope that Bolt's already remarkable career comes to a fittingly strong finish in Rio. 
Read more: