'Harry Potter and the Cursed Child' Just Dropped, and Fans Are Predictably Freaking Out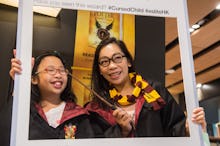 On Saturday, Harry Potter fans rejoiced in a way that they hadn't in nearly a decade. Decked out in full witch and wizard regalia, they swarmed their local bookstores like marauding plagues of doxies, drinking Butterbeer and counting down each bewitched second 'til midnight in a fashion not seen since the release of Harry Potter and the Deathly Hallows in 2007.
The occasion? A new Harry Potter book, of course.
On July 31, the typeset script for Harry Potter and the Cursed Child, a play that follows the events that take place after the original Potter series comes to a close, was released to the public.
Though the play itself opens officially in London on July 31, coinciding with the book's release, previews have been running in London since June. Early reviews of the play have been overwhelmingly favorable, with the consensus being that the show is a "fantastic, fittingly magical production that lives up to the hype," according to Mic's Miles Surrey.
Below are some of the dazzled reactions of fans eager to be thrust headfirst into the beguiling world of Harry, Ron and Hermione once more:
Despite the outpouring of joy from fans who have missed the boy wizard's spellbinding adventures, in an interview with CNBC, author J.K. Rowling said that Harry's journey has come to an end.
"He goes on a very big journey during these two plays and then, yeah, I think we're done. This is the next generation, you know," said Rowling, who later appeared on stage during a standing ovation at the end of the show. "So, I'm thrilled to see it realized so beautifully but, no, Harry is done now."
Read more: