'The Simpsons' Slams Donald Trump For Allegedly Sleeping Next to Hitler Speeches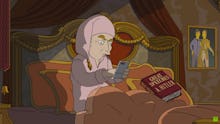 "It's 3:00 a.m. and the phone is ringing in the White House. Who do you want to answer that call? Hillary Clinton? ... or Donald Trump?"
That's the question posed in the latest Simpsons clip posted to YouTube on Saturday. In the two-minute bit, Marge and Homer watch a political ad lambasting Republican presidential nominee Donald Trump as a pampered, Twitter-obsessed megalomaniac who keeps a compilation of Nazi dictator Adolf Hitler's greatest speeches by his bed (true, according to ex-wife Ivana) and would take hours to respond to urgent calls from the situation room.
While Democratic nominee Clinton would jump at the chance to handle a 3 a.m. disaster, the clip suggests, Trump would be tweeting — and view the brimming disaster as an infringement on his time.
"We're too late?" a surprised Trump responds eight hours after begrudgingly accepting the call, following an apparently daily routine of pampering, makeup work and application of prosthetic hands. "The Chinese fleet is advancing? Just build another wall! Yes, in the ocean, loser!"
The ad concludes "paid for by Americans who are really starting to miss Obama."
It's not the first time The Simpsons has taken a swing at the Republican nominee. Earlier this year, the show featured Homer mixed up in a Trump rally (and in Trump's magical comb-over) after being offered money to pose as one of the candidate's supporters.
Read more: