Flint, Michigan, Now Has Nobody Collecting the City's Garbage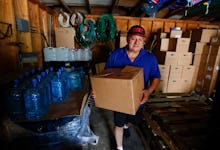 The city of Flint, Michigan, best known across the nation for a water-pollution crisis which left an unknown number of residents exposed to dangerous levels of lead that has not yet been resolved, is running into major problems with another public utility.
Trash pickup in the city is suspended until further notice, according to MLive, due to a dispute over which vendor will receive the Flint garbage collection contract which should have been in place following the prior contract's expiration on July 29.
"Due to the circumstances, there will be no trash pick-up in the city starting this Monday, Aug. 1, 2016," Flint spokeswoman Kristin Moore said in a statement. "Until a new agreement is officially in place, we ask the residents not set their trash out at the curb to prevent animals from disturbing it and make the situation worse."
According to MLive, the dispute stems from the city council's decision to reject a new contract Mayor Karen Weaver hoped to sign with a company called Rizzo Environmental Services instead of the current trash collector, Republic Services. Members of the city council "questioned Rizzo's ties to former Mayor Woodrow Stanley and potential ties the company may have in Canada," as reported by MLive.
WJRT reports the City Council has issued a statement describing the decision to stop trash pickup as exclusively Weaver's decision, but a legal battle is continuing over who will actually assume the contract.
Earlier, MLive reported City Council members requested more time to read through Rizzo's $17.4 million contract offer, which undercuts Republic by $2 million.
"This is a lot of money to have to make a decision without having all of the information," Councilwoman Kate Fields told MLive. "We just received this information today. We are talking about the city committing to a $17-million contract."
"Clearly the mayor recommended us based upon the ordinance of the city that states the lowest and responsible bidder shall, meaning there's no options, shall get the contract," said Jospeh Munem, Rizzo's director of governmental affairs. "We are the lowest responsible bidder."
A temporary halt in trash collection services is hardly the worst, and unlikely to be the last of the many problems with public services Flint residents have encountered in recent years.
Even as it was becoming clear the city's water was practically poisonous, Flint residents were paying some of the highest rates for drinking water in the country. Authorities recently charged six Michigan state health and environmental safety employees in relation to the water crisis, accusing them of deliberately ignoring test results showing contaminants in Flint water had reached levels hazardous to human health.
Read more: