Miss Teen USA Karlie Hay Won't Lose Title Over Past N-Word Tweets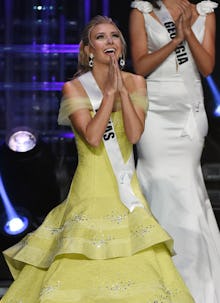 After past tweets of newly crowned Miss Teen USA Karlie Hay using the n-word were exposed for all the world to see, many called on the organization to make an example out of Hay and strip her of her title.
However, the Miss Universe Organization, which owns Miss Teen USA, is standing by Hay. In an email statement to Mic, MUO said that while Hay's language was unacceptable, she has "learned many lessons":
"The language Karlie Hay used is unacceptable at any age and in no way reflects the values of The Miss Universe Organization. As Karlie stated, she was in a different place in her life and made a serious mistake she regrets and for which she sincerely apologizes. Karlie learned many lessons through those personal struggles that reshaped her life and values. We as an organization are committed to supporting her continued growth."
In the same email statement, Hay issued her own personal apology, citing "personal struggles" as the reason for her prevalent use of the racial slur:
"A few years ago, I used language that is inexcusable, and I sincerely apologize for my actions. At the time, due to a number of personal struggles, I was in a place that is not representative of who I am now. Through hard work, education, maturity and thanks in large part to the sisterhood that I have come to know through pageants, I am proud to say that I am today a better person. I am honored to hold this title and I will use the Miss Teen USA platform to promote messages of confidence, inclusion and perseverance."
The tweets from 2013 and 2014 resurfaced shortly after Hay was crowned Saturday night in Las Vegas.
Many weren't pleased with the pageant's decision to let Hay keep the crown and questioned how Hay's tweets weren't discovered sooner, while others continued to support Hay and chalked up the incident as a youthful mistake.
Hay's tweets weren't the only source of discussion after this year's pageant: Many were quick to point out that each of the top five finishers was white and blonde. The current Miss USA, Deshauna Barber, is African-American, and the current Miss Universe, Pia Wurtzbach, is of Philippine descent.
Read more: