Pocket Constitution Becomes Best Seller After Khizr Khan's Powerful DNC Speech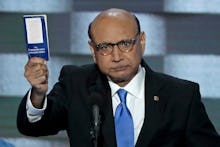 In one of the most talked-about speeches from the 2016 Democratic National Convention, Khizr Khan — the father of a Muslim American soldier who died serving his country — pulled out a copy of the United States Constitution and asked Donald Trump if he'd read it. Khan's statement didn't just elicit cheers from viewers; it also sent the U.S. Constitution to the top of Amazon's best seller list.
A $1 pocket-sized copy of the constitution reached Amazon's best seller list on Saturday afternoon — three days after Khan delivered his scathing criticism of Trump's anti-Muslim views, PBS NewsHour reported. 
Searches for the document went up, too, according to PBS NewsHour. Google Trend data reportedly revealed a "sharp rise" in U.S. searches for "pocket constitution" on Thursday, following Khan's speech. Searches for the little book also spiked on Friday and Saturday morning.
In his speech, Khan suggested Trump's proposed ban on foreign Muslims moving to the U.S. would violate the 14th Amendment, which contains what's known as the equal protection clause:
All persons born or naturalized in the United States, and subject to the jurisdiction thereof, are citizens of the United States and of the state wherein they reside. No state shall make or enforce any law which shall abridge the privileges or immunities of citizens of the United States; nor shall any state deprive any person of life, liberty, or property, without due process of law; nor deny to any person within its jurisdiction the equal protection of the laws.
For folks looking to secure their own pocket Constitution, copies are available on Amazon for $1. You can also buy it from these other places.
Read more: