Hillary Clinton Retakes Lead Over Donald Trump in Post-DNC Polling Bounce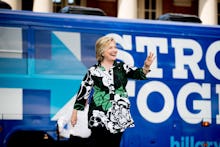 Hillary Clinton is back on top over Donald Trump, receiving a 4-point bounce after the Democratic National Convention wrapped last week, according to a CBS News poll released Monday.
Clinton now leads Trump, 46% to 39%, according to the survey, which was taken after the DNC wrapped on Thursday. That's up from a 42% tie between Clinton and Trump after the Republican National Convention earlier in July.
There's more good news for Clinton in the poll.
Now officially the Democratic nominee, Clinton is garnering more support from supporters of Sen. Bernie Sanders. After the DNC, 73% of Sanders supporters now back Clinton, up from 67% earlier in July.
_____________________________________________
Read more:
_____________________________________________
Clinton's favorability also rose 5 points after the DNC wrapped, with 36% of voters viewing her favorably. Trump, on the other hand, has a 31% favorability rating.
This is not the first poll post-DNC to show Clinton leading Trump.
A Public Policy Polling survey, conducted on July 29 and July 30, found Clinton with a 5-point lead over Trump — 50% to 45%.
She is now once again back on top in the RealClearPolitics polling average, leading Trump by an average of 2.2%.
According to CBS, Clinton's post-DNC bump is similar to those of President Barack Obama in both 2008 and 2012.
More polls are likely to come out in the coming days which could provide more data on where the race stands 99 days out from the election.