This Beauty Vlogger Is Challenging Her Peers to Only Use Black-Owned Makeup Brands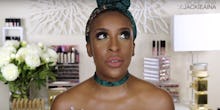 Jackie Aina's YouTube channel is full of videos you'd only expect from a beauty vlogger with more than 790,000 subscribers including natural makeup tutorials, color correcting tutorials and videos showing off her Sephora hauls. But last week, Aina posted a video that broke the mold in order to call attention to specifically black-owned beauty brands. 
In a video titled "Calling ALL Non-Black YouTubers! New Makeup Challenge!," Aina announced that in order to diversify the kinds of makeup beauty vloggers use in their tutorials, she'd be challenging her peers to the BOMB Challenge, which is short for "Black-Owned Makeup Brands" challenge, which asks them to only use black-owned makeup brands in their videos. 
According to Aina, many YouTubers and general makeup fanatics have been shying away from black-owned beauty brands out of pure ignorance. "It just doesn't make sense that people shy away from beauty brands because they're black-owned. Because apparently people only think that black people can use black beauty brands. That's not the case." 
"I think it's really important that black people are not just the only people supporting these brands, as well as these YouTubers," she said in the video. "These amazing brands should be just as mainstream as other brands — just the same way I feel that black YouTubers should be just as mainstream as other YouTubers. But unfortunately, that's not the case — especially when your skin is a certain color." 
By taking part in this challenge, Aina says that YouTubers have the opportunity to share new brands and companies with their thousands of followers, and to help black-owned businesses. 
For anyone who's still hesitant about participating, Aina insists that using black-owned makeup brands is no more difficult than, say, taking the time to put on 100 layers of highlighter or 100 coats of lipstick. "If you can slather on a hundred different highlighters on your face or a hundred different lipsticks, I don't really see how far-fetched it is to ask someone who is not black to support black beauty brands." 
Especially in a time like this, with Black Lives Matter getting more and more attention, Aina says that it's important to support black people within the beauty sphere. So far, the BOMB Challenge is already getting attention on Instagram, with beauty bloggers tagging their pictures with the black beauty brands they're using. 
In the description for the video, Aina made a point to list several different great black-owned beauty brands such as SheaMoisture and AJ Crimson Beauty, in order to ensure that people don't use ignorance as a reason for not participating. And given that the video's already been viewed more than 200,000 times, her challenge is set to actually make a real difference. 
You can watch Aina's entire BOMB challenge video below: 
Read more: