Muslims Attend Mass in Italy and France in Honor of French Priest Rev. Jacques Hamel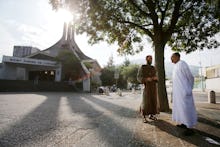 In Rouen, France — a stone's throw away from the church in Normandy where French Priest Rev. Jacques Hamel was killed — Muslims attended Catholic Sunday Mass, joining Muslims all across France and Italy in a powerful display of strength in worship and solidarity.
Outside the celestial Gothic cathedral, as reported by NBC News, Muslims held a banner with one heartfelt message: "Love for all. Hate for none."
Across from altar, Muslim men and women donning taqiyahs, or white skull caps, and headscarves sat in the church pews listening intently to Rouen Archbishop Dominique Lebrun. Among those in attendance for the interfaith mass was a nun who was taken hostage on July 26 in St.-Étienne-du-Rouvray, where 84-year-old Hamel was brutally killed by two attackers linked to the Islamic State group. After the mass service, the nun welcomed the Muslims attending the service and shook hands.
Several interfaith services took place in Lille, Calais, and Saint Denis, as well as the historic Notre Dame Cathedral in Paris where Mufti Dalil Boubakeur from the Mosque of Paris preached unity, tolerance and peace in a time of strife.
"The time has come for us to change our behavior and come together — so as to not split us apart, so that our country can be a country of unity and fraternity," Boubakeur told French broadcaster BFM TV.
In Italy, the Royal Chapel of the Treasure of Saint Genarro in Naples hosted the secretary general of the Italian Islamic Confederation Abdullah Cozzolino. In Rome's St. Maria Church, three imams sat in the front row across from the altar.
Ahmed El Balzai, an imam from a mosque in Bresica, Italy, said he is not afraid of backlash or retaliation from ISIS or other terrorists.
"These people are tainting our religion and it is terrible to know that many people consider all Muslim terrorists,"  El Balazi said to the Associated Press. "That is not the case. Religion is one thing. Another is the behavior of Muslims who don't represent us."
These interfaith gestures send a lot more than just a message of solidarity, as Twitter user Hend Amry points out.
Amen.
Read More: