Students Say Baylor University Punished Rape Victims for Drinking, Having Premarital Sex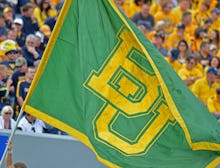 In June, Baylor University in Texas fired its famed football coach Art Briles over "serious shortcomings in the response to reports of sexual violence by some student-athletes," according to a press release by the Christian college. But it turns out the school's systematic mistreatment of sexual assault survivors might have gone beyond one coach turning a blind eye to sexual assault allegations. 
According to the Associated Press, victims who reported sex crimes to the school reportedly risked getting punished for drinking and "premarital sex," both of which violate Baylor's policies for student conduct, even if they occur off campus.  
More than one of the anonymous young women involved in a lawsuit against the university told the Associated Press they were slapped with code violations when they came forward. 
"I was told by many Baylor staff that they couldn't do anything for me because my assault was off campus, yet they had no problem punishing me for my off-campus drinking," one woman told the Associated Press. Mic has reached out to Baylor University for comment and will update when we hear back. 
Earlier this year, a former Baylor student, Stefanie Mundhenk, published several blog posts about the Baylor administration's inadequate response to sexual assault allegations. In the initial viral post about her experience, she wrote: "they [university administrators] had interviewed 100% of my rapist's witness list, and 0% of mine. ... [T]he Title IX investigator told me that Title IX was really backed up, that it would take months for me to get a normal hearing ... so they wanted to 'offer' me the option of having a single adjudicator decide my case." 
In May, Mundhenk published a letter from a peer claiming to be an anonymous rape victim at Baylor, who identified as M.G. The letter detailed M.G.'s experience of reporting rape to the school.
"You told [my attacker] that as long as he believes he could have 'reasonably interpreted' my silence as consent (despite the fact that your standard is affirmative consent, per your policy), then it WAS consent," M.G. wrote. "Title IX, Baylor: Stop being cowards, accept your mistakes, stop hiding, come talk to us rape survivors and ask us how we feel."
Universities that fail to uphold Title IX, the federal law that obligates universities to investigate reports of sexual violence, can lose their federal funding for school programs. Several students are claiming that Baylor failed to meet these legal obligations and that the administration is using tactics of shaming and intimidation to discourage sexual assault victims from coming forward. 
"A number of victims were told that if they made a report of rape, their parents would be informed of the details of where they were and what they were doing," Chad Dunn, an attorney from Pepper Hamilton LLP law firm, which is representing multiple women in a lawsuit against Baylor, told the Associated Press. 
In June, the school announced a new Sexual Assault Task Force to address the discrepancies in Title IX procedure and policies. But unfortunately, Baylor isn't the only school with a track record of penalizing sexual assault victims. In Utah, Brigham Young University was accused of investigating students who reported sexual violence for potentially violating other school rules against drinking and using drugs. 
In the list of recommendations Pepper Hamilton LLP offered Baylor for revising the university's Title IX procedures, the firm emphasized the need to "include a clear amnesty provision for violation of the Sexual Conduct Policy." Whether or not there was alcohol involved, students need to know they won't be punished for coming forward to report sexual assault.    
Read more: