5 Years Ago, This Runner Tweeted Her Dream to Go to the Olympics — Now It's Coming True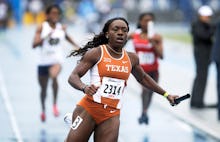 In 2011, Illinois runner Morolake Akinosun's future stretched out before her, undecided. Still, the 17-year-old had some big plans. "In 2016 I will be 22, graduated from a school I have not chosen yet, and going to the Olympics," Akinosun tweeted at the time. 
Akinosun was right. This month, the now 22-year-old will compete in the 4×100-meter relay in the 2016 Rio Olympics, according to BuzzFeed. Sharing her tweet from five years ago, Akinosun wrote on Saturday, "It's 2016. I graduate from Texas in December. I'm going to the Olympics next week."
"At the time I tweeted that out, it was more of a dream and an aspiration," Akinosun told BuzzFeed of her 2011 tweet. "A goal has to be somewhat realistic. I wasn't on the level yet and I didn't know for sure that I would ever get there, but I for sure wanted to get there."
Anikosun secured her place in the 2016 Olympic games earlier this month at the Eugene, Oregon, Track and Field trials. She reportedly burst into tears after crossing the finish line, having realized her dreams were about to come true. 
It may seem like Anikosun made her wish become a reality merely by launching it into the Twitterverse. But the athlete emphasized that between those two tweets lie five years of practice and persistence.
"I put in a lot, a lot, a lot of hard work over the course of the five years and I went after my dream," she said.
Read more: