New Jersey Hid Its Loan Forgiveness Program From Families of Dead Student Debtors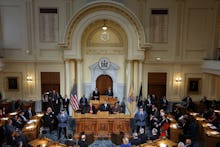 New Jersey, the same state that forced a grieving mother to make student debt payments on behalf of her murdered son, has tried to hide its loan forgiveness program from relatives of deceased debtors, according to newly leaked documents first reported by ProPublica.
Records show staffers at New Jersey's Higher Education Student Assistance Authority — the state agency that oversees student loan repayments — were explicitly instructed not to mention the office's policies on debt forgiveness for cosigners or co-borrowers when the original borrower passed away.
In an email from May, a HESAA program officer wrote:
Families of deceased borrowers (or surviving cosigners) must inquire if HESAA has a policy on loan forgiveness. We should not be volunteering this information.
Similar instructions were sent to staff in 2013.
Responding to the controversy, the agency countered in a written statement the uncovered messages "do not accurately reflect the authority's policy or practice on loan forgiveness." The group also pointed out that New Jersey has forgiven the cosigners of 35 people who died or became disabled since 2012 — though it's not clear how many people could have been released if they had simply known to ask.
The agency also said staff have been retrained on the policies regarding deceased borrowers since the emails were sent, though there's no written record of the retraining, as it was handled "in person."
New Jersey came under fire for its student loan program earlier this summer, after the case of a working class mother repaying her deceased son's student loans was highlighted in a ProPublica and New York Times investigation.  
The state's tough loan payment rules and high interest rates prompted the publications to describe the agency's actions as "state-sanctioned loan sharking."
In addition to being the seventh-worst state for college affordability, New Jersey has the largest state-run student debt agency in the country. Massachusetts, the second-largest, automatically forgives loans in the case of death or disability. Texas, the third-largest, has a flat interest rate of 4.5%, almost half the cap in New Jersey.
Some New Jersey borrowers have taken their frustrations to Yelp, where HESAA has a resounding 1-star rating, with complaints about high interest rates and misleading policies Said one user: "Do not take out loans with them, seek out literally any other option...."
Yelp reviewers describing the Garden State agency did not mince words.
The revelations come at an important moment for the movement to combat the student loan crisis: Almost two-thirds of Americans now believe tuition at state universities should be completely free, according to a new Bankrate survey.
Democratic presidential nominee Hillary Clinton has made free state college tuition for families making less than $125,000 a year one of her central campaign promises.
Republican presidential nominee Donald Trump is releasing his own college plan later this month.
Read more: