Another Reproductive Win for Low-Income Texas Women: IUDs From Planned Parenthood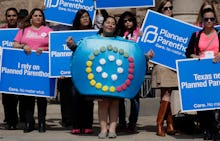 A pleasant twist in a long-running plot brings good news for reproductive rights in Texas. Beginning in September and spanning the next three years, an estimated 1,000 women could gain easier, more affordable access to long-acting reversible contraceptives, or LARCs, and STI testing, thanks to a $2 million donation two charities made to Planned Parenthood. 
The Boone Family Foundation and the Harold Simmons Foundation each gave $1 million in support of Planned Parenthood of Greater Texas, which runs 19 centers in the northern and central portions of the state. Thanks to the funding, Planned Parenthood will offer LARCs on a sliding fee scale for eligible women. The specific eligibility guidelines will be announced as the program rolls out this fall.
"Planned Parenthood is a trusted provider of healthcare in our communities and we're proud to partner with Planned Parenthood for such a transformational program," Cecilia Boone of the Boone Family Foundation said in a statement, according to Healthcare Daily. "Each time a Texas woman has expanded access to healthcare and education, regardless of her zip code, income or insurance status, it is a win for public health and for our communities."
The grant will help women access birth control implants and intrauterine devices, or IUDs, which both fall under the LARC umbrella. They're among the most effective forms of birth control, preventing pregnancy in over 99% of women who use them. 
But they're also expensive. Even though they can last for years and can pay for themselves over time, the initial cost of the insertion procedure and device can be, for many women, prohibitively high: $500 to $900, per one Planned Parenthood estimate, or possibly more. 
Low-income women benefit most from Planned Parenthood's services. A study published in early 2016 in the New England Journal of Medicine examined the effects of Texas' decision to cut funding to Planned Parenthood in 2013. Data showed a substantial dip in LARC and injectable contraceptive use amongst women with incomes 185% below the federal poverty line, living in counties with Planned Parenthood affiliates. At the same time, pregnancy rates and Medicaid-funded birth rates within this population increased. Surprise, surprise. 
By way of comparison, states that have expanded access to free or reasonably priced contraceptives (and LARCs, in particular) have seen measurable benefits. When the Colorado Family Planning Initiative offered low-income women and teens free LARCs, pregnancy and abortion rates dropped as savings on Medicaid births piled up. St. Louis saw similar results when its Contraceptive CHOICE Program began offering teens free birth control. 
The donation comes on the tails of June's landmark Supreme Court decision that struck down Texas' hyper-restrictive, anti-abortion law. All told, it's been a good summer for reproductive health in the Lone Star State. 
Read more:
Correction: Aug. 7, 2016