Your Love for Bananas Could Have Supported Terrorism in Colombia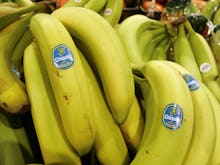 About 20 years ago, the humble banana inadvertently supported terrorism. The yellow fruit, a key smoothie ingredient and beloved source of potassium for many athletes, was actually the center of a multimillion-dollar lawsuit. 
After admitting to paying terrorist groups for protection in areas of Colombia, Chiquita agreed to pay a $25 million fine to the U.S. Justice Department, the Washington Post reported. 
Colombia is the fourth biggest banana exporter in the world, Reuters noted. So if you bought a Chiquita banana between 1997 and 2004, you indirectly funded a dangerous militant group in Colombia. 
The whole situation is like a fruity, less scandalous version of Narcos. The U.S. Justice Department fined Chiquita because the company admitted to shelling out $1.7 million to the United Self-Defense Forces of Colombia, otherwise known as AUC (an acronym of its Spanish name) between 1997 and 2004,  the Washington Post stated. Chiquita had been disguising these payments using intermediaries in Colombia and masking the payments in company accounting records, Think Progress reported. 
Paying off terrorists for employee protection
Why did Chiquita pay these bad guys? To allegedly protect its employees — and their productivity, Think Progress reported. 
If you bought a Chiquita banana between 1997 and 2004, you might have indirectly funded a dangerous militant group in Colombia.
While Chiquita employees were protected, the AUC killed more than 19,000 people ("suspected FARC sympathizers," as Stanford University put it) between the years of 1997 and 1999, Stanford University noted. The killings, attacks and kidnappings were meant to instill fear in other guerrilla groups in Colombia.
Reports from the region revealed it was an incredibly dangerous place. "At least three or four people turned up dead on this road every day... They were all kinds of people, workers, guerrillas, soldiers, paramilitaries... All this banana area was a battlefield," a manager of a Colombia banana farm told Fairtrade International in 2009, reflecting on previous years harvesting bananas in Urabá, a region in the northwest of Colombia. (Fairtrade International is a nonprofit group working to secure fair wages for farmers and workers.) Think Progress noted that there were 3,778 murders in the Uraba region of Colombia between 1997 and 2004. 
_____________________________________________
Read more: 
One 48-year-old woman told the Associated Press that paramilitary soldiers ransacked her home in search of leftist guerrillas in 2000. Finding none, they shot her husband while the woman fled with her baby, New York Post reported. Though the woman and thousands of other victims of AUC violence filed a suit against Chiquita, the Supreme Court decided not to take on the cause, Reuters reported. A ruling from a court in Miami stands: The U.S. justice system cannot weigh in because events occurred outside the United States.
Though Chiquita employees were allegedly shielded from the AUC-related violence, the money the company paid essentially funded terrorist operations. Chiquita's involvement didn't end with the payments, either — Think Progress noted that thousands of AK-47 assault rifles were unloaded on a Chiquita dock in Colombia in 2001.
It wasn't extortion, though. The frequency of transaction made Chiquita guilty, the company's own legal counsel said, as Think Progress reported.  
According to prosecutors in the Chiquita case, the company also paid for protection of Chiquita employees from other violent groups, including the National Liberation Army and the Revolutionary Armed Forces of Colombia, the Washington Post reported, noting the country had one of the highest kidnapping rates in the world. The three terrorist organizations are classified as Foreign Terrorist Organizations by the U.S. State Department. 
Terry Collingsworth, a human rights lawyer who has worked on multiple cases against Chiquita, said in an email that many witnesses attested that Dole Food was also supporting the AUC paramilitary group. In an official deposition from January shared by Collingsworth in an email to Mic, a top commander in the AUC in Colombia revealed that both Dole and Chiquita supported the group. 
The banana industry today
Chiquita severed ties with Colombia in 2004 — that year, Chiquita sold its banana production properties in Colombia, the Cincinnati Enquirer reported. While Colombia has a long history of conflict, the Colombia government has taken many steps to diffuse the violence. Colombian President Alvaro Uribe signed a peace treaty with the AUC in 2003, and tens of thousands of members have since disbanded, the Council on Foreign Relations stated.  
What about the bananas? Fairtrade International noted that employers and trade unions engage in radically more peaceful dialogues. 
Here's how to buy bananas that support healthy and happy communities: Look for an "Equal Exchange" or "fair trade" sticker. "Fair trade" products support communities and environments — e.g. protecting water resources, limiting use of pesticides, and requiring proper management of waste and energy, according to Fair Trade USA. 
Meanwhile, Equal Exchange, a worker-owned cooperative, works with small cooperatives in Peru and Ecuador to promote organic and fair trade farming practices. The organization emphasizes small-scale farmers and does not work with multinational companies, initiatives that were deprioritized by Fair Trade USA, Jessica Jones-Hughes, spokeswoman for Equal Exchange, said in a phone interview. 
Bananas aren't the only food that fuels unsavory violence. Mexican avocados are at the heart of violent gang wars in some Mexican provinces, the Wall Street Journal reported. In 2014, four out of five avocados sold in the United States came from Mexico, where gangs extort farmers and packhouse owners. And as Mic previously reported, there's a thriving avocado black market in New Zealand too. 
Instead of feeling up every avocado at the grocery store for signs of ripeness or sizing up bananas based on their coloring, it might be worth your while to check out that dime-sized product sticker — a Fair Trade or Equal Exchange sticker will show whether or not your fruit has unsavory consequences. 
Correction: August 12, 2016