Donald Trump's Feud With the Khan Family Is Exactly Why His Supporters Are Voting for Him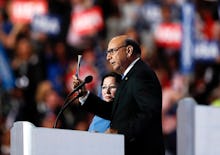 One would assume that feuding with a couple whose son was killed by a car bomb in Iraq while protecting his fellow soldiers would be political suicide for a presidential candidate. But this is the year of Donald Trump. 
Over the past week, Trump has been embroiled in a public spat with Khizr and Ghazala Khan, a Pakistani Muslim immigrant couple whose son, Humayun — a captain in the U.S. Army — died when a car outfitted with an improvised explosive device detonated near Baqubah, Iraq, in June 2004. 
Khizr Khan — Capt. Khan's father — took aim at the reality TV star during a speech at the Democratic National Convention on Wednesday.
"You have sacrificed nothing, and no one," Khizr Khan said, after asking Trump if he had "ever been to Arlington cemetery." 
"Go look at the graves of brave patriots who died defending the United States of America," he continued. "You will see all faiths, genders, and ethnicities."
Trump responded by lobbing insults at Khan and his wife, suggesting that Ghazala Khan — Capt. Khan's mother — did not speak at the convention because she wasn't "allowed to," an apparent allusion to stereotypes about sexism in Islam. 
Mrs. Khan corrected him by saying she did not speak because of her grief at her son's death.
"I cannot walk into a room with pictures of Humayun," Ghazala Khan wrote in an op-ed for the Washington Post on Sunday. "Walking onto the convention stage, with a huge picture of my son behind me, I could hardly control myself. What mother could? Donald Trump has children whom he loves. Does he really need to wonder why I did not speak?"
Trump also accused Khizr Khan of "viciously" attacking him:
Prior to the Khans' DNC appearance, Trump had repeatedly called for a ban on Muslim immigrants entering the United States — a policy that, ironically, would have kept Capt. Khan's family out of the country and made his life-saving exploits in Iraq impossible. It seems bizarre that the GOP nominee would double down on his Islamophobic rhetoric by sparring with a Gold Star military family. But it's also worth remembering this is the pact Trump and his supporters have agreed to — that their racially tinged war on so-called "political correctness" trumps any facts, logic or respect for fellow human beings that might stand in their way.
Trump supporters like the 70-year-old because he has no filter. In exit poll after exit poll, Republican primary voters have cited Trump's willingness to "tell it like it is" as a major reason — if not the predominant reason — why they voted for him. What this actually seems to mean is that they appreciate his willingness to insult and degrade minorities without fear of reprisal. He is not "telling it like it is." That would imply truthfulness — and require him to admit that violent crime rates are still lower than they've been in decades, that black people are not the biggest perpetrators of homicide against whites, that most undocumented Mexican immigrants are not, in fact, rapists and that Islam — a religion that comprises 1.6 billion people worldwide — is not an existential threat to the U.S.
But that is not what Trump and his supporters want. They want carte blanche to express their bigotry without consequences, plain and simple, and on July 21, when Trump accepted the presidential nomination, the Republicans made him the face of their party.
Read more: