'American Horror Story' Season 6: Theme Possibly Revealed in New Photos and Trailers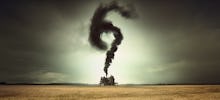 Fans eager to learn more about the impending sixth season of Ryan Murphy's American Horror Story, now less than two months away from its highly anticipated premiere, just got another hint. TMZ released photos Monday, reportedly from the set of the show's latest season filmed in Santa Clarita, California, that give a huge clue as to what the forthcoming season may be about. 
Pictures of the area appear to show a small, brown home with a thatched roof, firewood and barrels, as well as a tree with the term "croaton" carved in bold letters. The name refers to the small colony of settlers who disappeared in 1590, just three years after arriving on Roanoke Island, leaving behind only the word "Croatoan" on the entrance of a fort. Similarly, "Cro" was emblazoned on a tree, much like the depiction American Horror Story seems to have recreated. 
If the photos of the set are in fact reflective of the show's upcoming season, it would completely derail many fans predicting what the sixth season might revolve around. Audiences have foreshadowed Ryan Murphy's hit Fox series will focus on a hospital, Slenderman and summer camp.
Murphy and the show's executive producers have typically revealed what the upcoming season is about by this point — yet this season FX is being notably silent, only dropping little hints here and there. FX Networks posted a 10-second video titled "What's Cooking?" to YouTube showing a cloud of smoke billowing in the shape of a question mark from a lone house with the premiere date of Sept. 14 underneath. A question mark appears to the left of the number "6," the number of the upcoming season.
Fans will just have to wait a little longer to find out what the masterminds behind AHS are cooking up. Until then, Murphy's happy to tease them.
Read more