The Best Cities for 'Pokémon Go' That Also Have Really Cool Other Shit to Do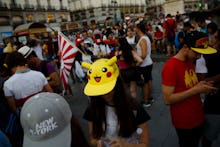 We've reached the point in Pokémon Go's meteoric rise and unfathomable popularity where people are actually traveling to play the game. Sites like Wanderu host maps showing cities where you can find Hitmonlees, Porygons and Dratinis — which are all words that people use now, usually followed by exclamation points.
Wanderu used Twitter documentation to track the number and frequency of Pokémon sightings in 250 cities, tracking epic (like Hitmonchan, Dratini and Chansey), mythical (like Snorlax and Porygon) and special (like Pikachu and Aerodactyl) Pokémon specifically.
If you're going to shell out for plane, train or boat tickets to become a Pokémon Master (see: being the best, the best there ever was) then you might as well make the most of the trip. Here's how to do that.
Los Angeles
The City of Angels hosts nine of the 11 Pokémon Wanderu's study looked for. That includes Porygon, Snorlax and Lapras, all three mythical Pokémon. But it also has, you know, Disney Land, Hollywood Boulevard, Griffith Park, Venice Beach, Santa Monica Beach, Manhattan Beach and In-N-Out Burger. In no particular order. But seriously — go to the beach.
_____________________________________________
Read more:
Seattle
Seattle doesn't have Lapras or Chansey, as far as the data showed, but it has a Hitmonchan (and most of the other ones L.A. has), and if you're on the hunt for fighting-type Pokémon, that might make Seattle a good bet. So while you're looking for Pokémon, go see Seattle, in all of its caffeinated, rainy glory. You could go to the observation deck at the Space Needle (shown above) — or save money and go to the Smith Tower instead. Go to Pike Place Market and eat good food. Go canoe at the Waterfront Activities Center. Or drink so much coffee you can't see straight — which might the energy you need to track down a single rare Pokémon in a city of almost 84 square miles.
New York City
NYC actually didn't have any Pokémon you couldn't find in at least one other city (however it's the only city that Wanderu recorded for having a Kabuto sighting besides L.A.). But for what it lacks in unique Pokémon it makes up in being the best city on the entire planet (editor's note: writer is partial and conceded that Paris is probably also neat).
If you find yourself on a Pokémon hunt in New York, check out Central Park (also a Pokémon hotbed), the Museum of Modern Art and the Statue of Liberty. Shop in SoHo. Go see a Broadway — or off-Broadway, or off-off-Broadway — play. Visit the nearby boroughs Brooklyn and Queens. And eat everything you can. Because even though it's going to be really hard to list all of the things you can do in New York, you can at least expect to eat right.
Boston
Boston only had three especially rare Pokémon — the rare Snorlax and Porygon and the epic Dragonite — but if you swung through New York on your way out to Boston, you may have already found all of those. So in that case, concentrate on the city itself. Go to the New England Aquarium, the Paul Revere House and the Freedom Trail (because Boston is patriotic as hell). See a Red Sox game at Fenway Park. Walk around pretending you're Johnny Depp playing former Winter Hill Gang boss Whitey Bulger. Do not break character if you encounter a Porygon while you do.
Chicago
Chicago is the only city besides Orlando, Florida — which will not be on this list — where Wanderu's data showed the epic pokémon Magnemite. But Chicago is worth so much more than its burgeoning Magnemite population. You could see the Shedd Aquarium or go to Navy Pier or Millennium Park. You could dig into individual neighborhoods like Boystown, or go to the Briar Street Theater, where the Blue Man Group has been performing for almost 20 straight years. If you've never had banana guts and paint sprayed down on you by three grown men of almost identical heights, you haven't lived. It's an experience more important to your emotional growth any Magnemite you might encounter.