McDonald's Is Testing a Pedestrian Lane, So Anyone Can Satisfy Their Late-Night Drunchies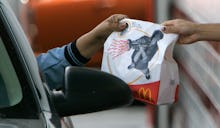 The drive-thru is called such for a reason: It's a cars-only order line. But one McDonald's in the U.K. is currently testing a walk-thru concept, Uproxx wrote. This is especially great news for those for night-dwellers who've knocked back a few too many glasses of sangria and can't stop thinking about Chicken McNuggets. 
While a number of McDonald's are open 24 hours a day, the restaurant lobbies close late at night, meaning that the only option is the cars-only drive-thru lane. This presents an obstacle for intoxicated folk craving a bunch of McNuggets or an M&M McFlurry post-sunset. One location in the U.K. is currently testing a potential solution: a pedestrian lane, the Sun reported. In addition to its drive-thru lane, the walkable lane will be open from 2:30 a.m. to 4:00 a.m., so hungry customers can get their McFix whether they're in a vehicle or not.
_____________________________________________
Read more: 
So far, the walk-thru lane is working. Staff members told the Sun that the idea is going over "extremely well." So well, in fact, that management plans to "make it a permanent feature" of the restaurant. 
The feature is not currently available in the U.S. Most restaurants with drive-thru lanes prevent customers from walking through to place an order for "safety reasons," a Taco Bell manager told Consumerist. This hasn't stopped people from trying, however. In 2011, a man was arrested for misusing 911 after calling the service to report that he'd been denied tacos while walking through the drive-thru, Consumerist reported.
It seems that hunger knows no bounds. In 2015, a man was fined $266 for riding a horse through the drive-thru at a Taco Bell in Texas, Eater noted. At that point, it might've been cheaper to just take an Uber — even with surge pricing.