Hillary Clinton and Donald Trump Both Slam Free Trade. Millennials Beg to Differ.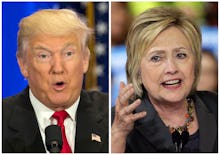 With Democrats and Republicans riven by bitter disagreements on virtually every major public policy issue, it would seem there's no area where the two parties aren't sharply polarized.
There's one glaring exception. On free trade, both Hillary Clinton and Donald Trump eschew traditional economic orthodoxy, opposing the Trans-Pacific Partnership and floating the renegotiation of existing pacts like the North American Free Trade Agreement.
The bipartisan skepticism of free trade gives short shrift to the views of a rising segment of the American electorate — millennials, whose technological savvy, occupational dexterity and international social networks reflect their coming of age in the era of globalization.
The disconnect is stark. While many polls show more Americans favor rather than oppose free trade, support is lopsided among millennials. A poll conducted by YouGov in May found 48% of Americans between the ages of 18 and 29 thought trade agreements between the United States and other nations were mostly a good thing, while only 12% considered them a bad thing, easily making millennials the most pro-trade cohort.
Free trade registers even higher support in other polls. The Pew Research Center found in March that 67% of 18- to 29-year-olds thought free trade benefited the country; only 53% of 30- to 49-year-olds felt the same way, and support plunged to about 40% with voters 50 and older. Meanwhile, a poll released in June by the centrist think tank Third Way found 70% of millennials supported expansion of global trade over measures to limit foreign competition.
Behind the numbers: Millennials' views on the issue boil down to very simple factor, experts say: Their experiences in the global economy are markedly different than those of their older counterparts.
"Going back decades ago, average people held a job for far longer," said Gabe Horwitz, who directs Third Way's economic program. "You made that job your career, you retired, you got the gold watch, you got the pension. Millennials are having dozens of jobs, often multiple jobs at a time."
Many of those older jobs were in manufacturing, which accounted for a quarter of U.S. employment in 1970 but by 2014 comprised only 8.1% of the job market. Competition from cheap imports is responsible for much of the decline in American manufacturing.
_____________________________________________
Read more:
_____________________________________________
"The effects of trade have been felt most severely in manufacturing, and frankly, there haven't been many young workers hired or fired in manufacturing in the last 10 or 15 years," said Robert E. Scott, a senior economist at the liberal Economic Policy Institute.
"So in one sense, they've been protected, but in another, they've suffered, because they haven't had these manufacturing jobs available to them."
Instead, millennials are more likely to see the benefits of global trade: cheaper products, higher purchasing power and boosted international relations.
Third Way's survey underscored the vastly different perspective millennials hold on the issue. While 61% of voters overall said they were concerned about job losses stemming from globalization, 51% of millennials said they weren't particularly concerned, with 67% saying trade was vital to the country's success.
Global citizens: Driven in no small part by sheer necessity, millennials tend to be more highly educated than the mid-20th-century workers who could graduate from high school and proceed to a unionized factory job that provided enough income to support a middle-class family lifestyle. Millennials are slated to become the most-educated generation yet, easily surpassing their forebears in holding at least a bachelor's degree.
That educational attainment has led younger Americans to pursue careers in scientific, technological and creative professions that benefit tremendously from foreign trade and immigration.
What's more, they often take on those careers after studying and traveling abroad, experiences that help instill a sense of global citizenship. The State Department reported last year that the number of college students studying abroad was at an all-time high, and the Boston Consulting Group found in 2013 that millennials were 23 percentage points more likely than their older counterparts to want to travel abroad.
'Millennials today have more access to the outside world than past generations," said Matt McDermott, a senior analyst at Whitman Insight Strategies who has conducted public opinion surveys on free trade. "The most prevalent is social media, which brings the ability to have connections and relationships outside of Everytown, America."
But wait: Didn't millennials overwhelmingly back the Democratic presidential primary bid of Bernie Sanders, an inveterate foe of trade agreements who attacked Clinton's past support for free trade?
"There was a big portion of Sanders supporters who supported political change, but didn't necessarily support all of his views on economic change," Horwitz said.
Therein lies the rub for advocates of expanding global trade. While many polls show public support for free trade, those who are most likely to prioritize the issue at the ballot box are free trade opponents.
"Voters in swing states, particularly in Rust Belt states, are generally mixed in their views of free trade. They generally think that free trade leads to job losses," McDermott said, adding that his research found voters in Rust Belt states were about 10 percentage points less likely to vote for a candidate who backed free trade agreements.
That explains why Clinton and Trump are emphasizing their opposition to the TPP as they barnstorm Ohio and Pennsylvania, states President Barack Obama won twice and are crucial to Trump's hopes of riding to the White House on a wave of white working-class support. The RealClearPolitics polling average finds Clinton edging Trump by less than a percentage point in Ohio, while she leads by five points in Pennsylvania.
Horwitz said economically struggling voters should be given "tools to better deal with globalization," citing skills training and education.
"Economic change and globalization are happening whether we like it or not," he said.
That principle undergirds how millennials look at free trade. But this year's especially fiery rhetoric — Sanders regularly excoriated "job-killing" trade deals, while Trump rails against the "catastrophe" wrought by deals like NAFTA — may foster heightened skepticism from many younger voters, McDermott said.
"They didn't go through the free trade battles of the '80s and '90s," he said. "They never lived through the 'giant sucking sound' of Ross Perot," the independent presidential candidate who made opposition to free trade a cornerstone of his 1992 and 1996 White House bids.
But while the longer-term effects of 2016's one-sided conversation on trade remain to be seen, McDermott said supporters of agreements like the TPP are missing a prime opportunity to build political pressure for a vote during Congress' post-election lame-duck session.
"It's a curiosity to me why the business community hasn't harnessed the voice and power of the millennial movement," he said.