Muslim-American Women Are Using This Powerful Hashtag to Take a Stand Against Donald Trump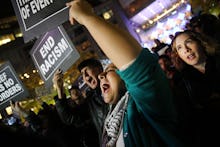 If there's one thing Republican presidential candidate Donald Trump is good at, it's pissing people off. And this time, it's Muslim American women.
After Muslim-Americans Khizr and Ghazala Khan — parents of Army Capt. Humayun Khan, who died serving in Iraq — appeared at the Democratic National Convention and lambasted Trump, the candidate immediately started targeting them: specifically, their religion. 
Khizr Khan spoke with his wife, Ghazala, at his side — leading Trump to argue she wasn't allowed to speak because of their faith. In response, Muslim American women and their allies are using #CanYouHearUsNow on Twitter to take a defiant stand against the bigoted commentary. 
It didn't take long for the hashtag to start trending.
The full backstory: During his speech at the DNC on Thursday, Khizr Khan publicly asked Trump — who has proposed a ban on Muslims traveling to America — if he had ever read the constitution. He even procured a pocket-sized copy of the constitution from his pocket, and offered to loan it to Trump.
The following day, Trump told New York Times columnist Maureen Dowd, "I'd like to hear his wife say something." 
On Saturday, Trump buttressed this sentiment during an interviewing with ABC's George Stephanopoulos: "If you look at his wife, she was standing there," he said. "She had nothing to say. She probably — maybe she wasn't allowed to have anything to say. You tell me."
The candidate made matters worse for himself when, despite growing backlash over the weekend for his comments, he continued the conversation on Monday morning via Twitter. He argued the story was not about his beef with Khan — who "viciously attacked" him — but rather, about "radical Islamic terrorism." 
On Friday, Ghazala Khan addressed Trump's bigoted claims. During an interview on MSNBC's Last Word with Lawrence O'Donnell, Khan responded to the GOP presidential nominee's suggestion that she was silenced:
"First of all, I thank all America who listened from their heart to my husband's and my heart, and I'm so grateful for that. And it was very nervous because I cannot see my son's picture, and I cannot even come in the room where his pictures are. That's why when I saw the picture at my back I couldn't take it, and I controlled myself at that time. So, it is very hard."
She followed this up with an op-ed in the Washington Post Sunday.
"Here is my answer to Donald Trump: Because without saying a thing, all the world, all America, felt my pain," she wrote. 
"Walking onto the convention stage, with a huge picture of my son behind me, I could hardly control myself," Khan added. "What mother could? Donald Trump has children whom he loves. Does he really need to wonder why I did not speak?"
Grief, it turns out — not a purportedly oppressive religion — is what left Khan speechless. And Muslim women the world over want to make sure Trump understands that. 
Read more: