Meet Laurie Hernandez, Sydney McLaughlin and the Other Youngest Team USA Olympic Athletes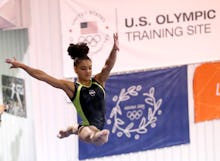 The 555 athletes representing the United States in the 2016 Olympics in Rio de Janeiro make up the largest roster for one nation in the history of the Olympic Games. On that roster are 292 women and 263 men who are slated to compete for their country across 27 different sports.
Of those athletes, 191 are returning Olympians — but the majority will be making their first games appearance. Imagine not only competing at your first Olympic Games, but also be doing so before you can legally have a beer. Here's a look at some of the youngest athletes representing the U.S.:
Kanak Jha, 16, Table Tennis
At 16 years of age, the men's table tennis player is the youngest member of Team U.S.A.'s roster, according to the Houston Chronicle. Jha has been playing since the age of five, and moved to Sweden last August to hone his craft more seriously. Unlike many other sports in which the Americans are a powerhouse, they're more of an underdog in Jha's sport, with the men ranked 44th internationally. But at No. 272 individually in the world and the reigning American men's national champion, Jha occupies the role of leader in his squad. 
It's a title he seems willing to embrace. "He only thinks about table tennis, living for table tennis," American coach Massimo Constantini told the Houston Chronicle. "He does whatever for table tennis."
Katie Ledecky, 19, Swimming
While most of the youngest Olympians are making their Games debuts, Ledecky is an exception. This will be her second Olympics after a dominant showing in London where, at 15, she was the youngest American competing across the pond. A 2016 ESPYs nominee for Best Female Athlete, Ledecky has set 11 world records, including three at last year's World Championships in Russia, where she won five gold medals. A surprise gold winner in the 800m freestyle in London, Ledecky's achievements likely won't be such a surprise this time around.
Laurie Hernandez, 16, Gymnastics
Gymnastics has become known for producing some of the games' brightest and younger stars every four years, and 2016 figures to be no different with the likes of Hernandez. Having just made her senior competition debut earlier this year, Hernandez helped the Americans to a gold medal at April's Pacific Rim Championships. Hernandez's all-around score was good enough for third place, though she wasn't awarded an individual bronze medal because of a rule prohibiting more than two medals being awarded to gymnasts from the same country. Just 10 days older than Jha, Hernandez is the first Hispanic U.S. Olympic gymnast since Tracee Talavera in 1984, according to NBC.
Sydney McLaughlin, 16, Track and Field
McLaughlin, who turns 17 on Sunday, finished third in the 400m hurdles at the U.S. Olympic team trials with a time of 54:15, a new world junior record. It also made her the youngest female Track and Field athlete to qualify for the American Olympic team since Carol Lewis in 1980. Bounding hurdles at a world-class pace isn't her only talent, though — she started a juggling club at her high school earlier this year, the Washington Post reported.
Mallory Pugh, 18, Soccer
The only non-professional on the American women's roster, Pugh boasts a number of impressive credentials already: She won the U.S. Soccer Young Female Player of the Year and Gatorade Girls Soccer Player of the Year awards. And she became youngest female to player for the U.S. national team during an Olympic qualifier when she debuted in a 5-0 win against Costa Rica in January. As for what's next, it's unclear — Pugh has committed to play at UCLA but may forego college altogether and go pro.
Read more: