Missy Franklin: 8 Facts You Didn't Know About 2016 Rio Olympics Swimming Star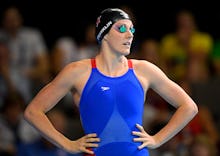 U.S. swimmer Missy Franklin became a bonafide national star at the 2012 Olympic Games in London. This summer, she'll attempt to add to her medal count at the 2016 Olympic Games in Rio de Janeiro. As the Summer Games approach, here's what you need to know about the 21-year-old swimmer.
1. She's won 26 international medals
Franklin became a household name when she won five medals at the London Games, but she's made quite a name for herself elsewhere on the international circuit. She's accumulated 26 medals in international competition, including 11 gold medals at three different World Championships, according to her USA Swimming bio.
2. She's a dual citizen
Franklin, whose parents were both born in Canada, holds citizenship in both the United States and Canada. Her mother was born in Halifax, Nova Scotia, and her father was born in St. Catharine's, Ontario. Franklin was born in Pasadena, California.
3. Athletics are in her genes
Franklin's father, Dick, was an offensive lineman at Saint Mary's University in Halifax. He also played one game for the Canadian Football League's Toronto Argonauts before suffering a knee injury.
4. She originally took up swimming for safety purposes
Though she ended up becoming a world class swimmer, Franklin's reasons for hitting the water at a young age were spurred by her mother's concerns for water safety. However, she quickly moved on to competition, joining a travel team at age 7.
5. She's had the same trainer since the age of 7
Franklin has trained under Todd Schmitz since she was 7 years old, according to the Associated Press. Schmitz is also an assistant coach for the United States Olympic team.
6. Franklin set two world records in London
Franklin's 3:52.05 time in the 400m medley relay and 2:04.06 in the 200m backstroke in the 2012 Games were both world records.
7. She's made appearances in mainstream television and movies
Franklin made a guest appearance as herself in an episode of Pretty Little Liars in March of 2013. She also had a cameo role in The Internship, which came out later that year, though her scene was cut for the film's theatrical release.
8. She's sacrificed millions of dollars to attend college
The Sports Business Journal reported that Franklin has missed out on approximately $2 to 5 million in endorsement income. She attends the University of California, making her ineligible — for now — to receive such payments.
Read more: