A Brief History of Usain Bolt's Path to the 2016 Rio Olympics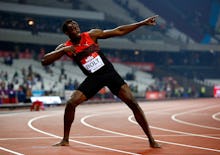 Usain Bolt excelled during the 2012 Olympics. But that's not too surprising, as he's been a stellar competitor over his long career as a world-class athlete. Bolt has won 11 world championships, including six gold medals at the Olympics, according to Bolt's official website. 
With Bolt announcing that he'll be retiring from athletics after the 2017 World Championships in London, it's time to take a deeper dive into one of the fastest men the world has seen.
Bolt is a world record holder.
His ridiculous speed has earned him the nickname "Lightning Bolt." The sprinter has broken the world record in the 100 and 200 meter events, as well as helped the Jamaican team break the world record in the 4x100 meter relay at the 2012 Olympics. 
To go along with those impressive records, Bolt is also the first athlete to achieve what's known as the "double double," as reported by the Los Angeles Times, which is when an athlete wins both the 100m and 200m titles in back-to-back Olympics, a feat which he accomplished in 2008 and 2012. Now, Bolt will look to make it a three-peat, as his dominance could continue on in the 2016 Olympics.
Watch him break the 100m world record in Beijing:
Bolt is much more than just a runner.
If he wasn't a competitive runner, Bolt would have been a fast bowler instead, as cricket was the first sport to draw the attention of the 29-year-old Jamaican star, according to the BBC. As far as his favorite cricket team goes, he supports the Pakistani team, while admitting to being a fan of Waqar Younis, according to Dawn.
We've seen Bolt in a wide range advertising campaigns including Virgin Media and Visa. He's also been part of advertising for the Olympics since 2012. But out of everything that Bolt has done, there may be nothing more impressive than his contributions to two charities: Small Steps Project, which helps deliver shoes, hygiene kits and emergency aid to protect children, and the Usain Bolt Foundation, which "enhances the character of children through education and cultural development, as they live their dreams."
Here's where to look for him at the 2016 Olympics.
As the Telegraph points out, Bolt is going to be pretty busy in Rio. Between Aug. 13 and Aug. 19, Bolt has eight races. On Aug. 18, he may have to run two races, if Jamaica taps the superstar for the relay heats. Later on in that day, he'll likely have the 200m final.
As for the specific events that we can see Bolt in, it begins with the opening round of the 100m on Saturday, Aug. 13, at 12 p.m. His first final, assuming he makes it that far, would happen on Sunday, Aug. 14, at 10:25 p.m., with his other finals coming in the 200m on Thursday, Aug. 18, at 10:30 p.m. and the 4x100 m relay on Friday, Aug. 19 at 10:35 p.m. With multiple heats and opening races on the days before that, you'll have more than your fair share of opportunities to catch "Lightening Bolt" blast across your television.