In Honor of National Breastfeeding Month, Here Are 7 Celeb Moms Talking About Nursing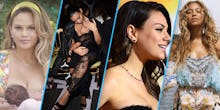 Hello, and welcome to August! It's gonna be a milky month. Why? Because it is National Breastfeeding Month. 
To honor the occasion, we decided to gather the wisdom of various celebrity moms for a roundup of seven grade A breastfeeding quotes. From the sentimental and profound to the lighthearted and cheeky, these moms have made it clear that they are truly dedicated to the craft of nursing.
Let's begin!
Kim Kardashian West: "It's such a natural experience."
The media maven (and mother of two) shared her thoughts on public breastfeeding in a post on her app in January. "I think it's such a natural experience and I'm not shy about that," she wrote. "I know so many people get backlash for posting breastfeeding pics, but I don't mind them!"
Beyoncé: "I encourage women to do it."
Queen Bey herself told People that she breastfed her daughter Blue Ivy for 10 weeks back in 2012. "I lost most of my [baby] weight from breastfeeding and I encourage women to do it," she said. "It's just so good for the baby and good for yourself."
Gwyneth Paltrow: "I am a milk machine."
While Paltrow may recommend Pumpkin Seed Milk — and various other nut milk alternatives — for her Goop readers, she prefers that her babies drink nothing but human milk, from her breasts. "I am a milk machine," she told Harper's Bazaar in 2006 after the birth of her son Moses.
Chrissy Teigen: "You just feel like you are just a cow all day."
The chronically relatable supermodel dropped this funny little zinger to Entertainment Tonight in a recent interview about her daughter Luna, to whom she gave birth back in April. "They just use you for your milk and you just feel like you are just a cow all day," she said. "It's hard to work your entire day around getting her all the nourishment she needs because they are just little animals."
Adele: "I managed about nine weeks with my boobs."
In March, the silky-voiced siren clapped back at the pressure that some moms put on other moms to be perfect breastfeeders. "Do you know what? The pressure on us is fucking ridiculous and all those people who put pressure on us can go fuck yourselves, alright?" she sassily declared during a performance. "Because it's hard. Some of us can't do it! I managed about nine weeks with my boobs."
Gwen Stefani: "He's getting his teeth so it is a little bit scary."
In a 2007 interview with the Guardian, the singer opened up about one slightly dangerous aspect of breastfeeding that is not often talked about: boob biting. "I don't know when I'm going to stop breastfeeding. I'll just keep going while I can — like, he's getting his teeth so it is a little bit scary," she said of her son Kingston, who was born earlier that year. "He's bitten me a few times!"
Mila Kunis: "I literally breastfed everywhere."
Last month, Kunis told Vanity Fair that she "literally breastfed everywhere" after she gave birth to her daughter in 2014. "There were many times where I didn't bring a cover with me, and so I just did it in a restaurant, in the subway, in the park, at airports, and in planes," she said. "Why did I do it in public? Because I had to feed my child. She's hungry."
And that concludes today's exploration of Hollywood breastfeeding wisdom. Whether it's Chrissy Teigen's delightful cow analogy or Gwyneth Paltrow's self-identification as a "milk machine," may these words embolden each and every one of us to celebrate National Breastfeeding Month with gusto! Got milk?
Read more: