Rio Olympic Schedule 2016: Day-by-Day Breakdown of Major Olympic Sports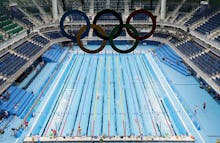 The 2016 Olympics in Rio de Janeiro are taking place Friday until Aug. 21, with a number of sporting events and medal presentations occurring on nearly every action-packed day. This summer's games will host 39 sports; as you can imagine, there will be no shortage of exciting games, events and competition to watch.
Soccer actually began Wednesday. So if you can't wait until the weekend for Olympic action, you can check out the six women's soccer games Wednesday, followed by the eight men's soccer games Thursday.
The final day of the Olympics will close with medals awarded in wrestling, volleyball, rhythmic gymnastics, handball, cycling mountain bike, boxing, basketball and athletics. To wrap it all up, we'll have the closing ceremony.
Here's a schedule of some of the major events. For a full run-down of the action, you can check out the full schedule on the Olympics' official homepage. Let's take a look at the dates for swimming, basketball, gymnastics, volleyball and field hockey.
Swimming
Swimming: Saturday to Aug. 13 (medals awarded on each day)
Marathon swimming: Aug. 15 and Aug. 16 (medals awarded on both days)
Synchronized swimming: Aug. 14 to Aug. 16, Aug. 18 and Aug. 19 (medals awarded Aug. 16 and Aug. 19)
Basketball
Saturday to Aug. 21 (medals awarded Aug. 20 and Aug. 21)
Field hockey
Saturday to Aug. 19 (medals awarded on Aug. 18 and Aug. 19)
Gymnastics
Artistic gymnastics: Saturday to Aug. 11, Aug. 14 to Aug. 16 (medals awarded Aug. 8 to Aug. 11 and Aug. 14 to Aug. 16)
Rhythmic gymnastics: Aug. 19 to Aug. 21 (medals awarded Aug. 20 and Aug. 21)
Trampoline gymnastics: Aug. 12 and Aug. 13 (medals awarded on both days)
Volleyball
Indoor volleyball: Saturday to Aug. 21 (medals awarded Aug. 20 and Aug. 21)
Beach volleyball: Saturday to Aug. 19 (medals awarded on Aug. 17 to Aug. 19)
Read more: