Last Minute Flights: These 3 Moves Will Help You Find Cheap Airfare On Short Notice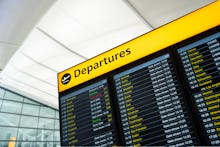 The end of summer can be the perfect time to squeeze in a last-minute vacation, but you'll pay an arm and a leg if you don't do some due diligence before you book. 
Before the rise of flight aggregators, scanners, and budget travel websites, scoring a cheap last-minute flight was as simple as showing up at the airport and asking for a standby ticket. These days most flights sell out, meaning standby tickets typically go to customers paying full price. 
Still, if you know where to look, and what to skip, it is certainly possible to snag low-cost airfare at the eleventh hour. Here are three rules of thumb to get you there:
Stay alert, since scams abound
Before you can find a great bargain, you must know how to avoid the fakes.
Fraudulent travel companies may use language to suggest a "last minute deal" as a way to pique the interests of otherwise discerning customers, according to the Better Business Bureau, which estimates that consumers lost about $300,000 to travel and vacation scams in the last year. 
To protect yourself from these situations, BBB recommends you always get details of any deal in writing, and think twice before ponying up cash or fees because you "won a trip." The smartest way to pay for travel is with a credit card, BBB suggests, so you can take advantage of your card's fraud protection provisions.
Not all drains on your money are full-fledged scams: As with any cheap flights, you should also research whether to expect extra fees ahead of time on last-minute travel, since charging for amenities people are used to getting for free is often how budget airlines make their money today.
For this reason, the BBB also recommends printing out the terms of any deal you choose and bringing them with you, so you can be prepared to contest fees that pop up by surprise. 
Get deals straight from the horse's mouth 
There are tons of third-party apps and aggregators to help you find cheap flights (more on those below), but an underrated way to uncover cheap last-minute flights is by going directly to airline websites or following your favorite airlines on Twitter and other social media, in case they use those platforms to publicize a deal.
Many airlines have newsletters that are useful for customers who want to know about short-notice deals.
Just choose an airline with a presence at your local airport and set up email alerts for your frequency of choice: If you are close to a weekend you're hoping to spend traveling, you may want to receive multiple alerts each day.
Remember to take advantage of airline loyalty programs, since the relatively high cost of last-minute travel can be offset by racking up frequent flyer miles. 
Comparison shop on clever apps
There are a number of websites and mobiles apps that take advantage of flaws in the booking process to root out cheap flights on short notice. 
Czech-based Kiwi (formerly Skypicker), for example, finds cheap flights by identifying routes with layovers too long to get picked up by the bigger sites. A recent search on the site uncovered a mid-August round-trip flight to Budapest from New York costing less than $700, though it included a 10-hour layover in Paris.  
Another option is Hopper's "Get The Flight Out" app, which compiles and ranks any cheap flights leaving within the next 24 hours. When Mic tested the app, we found flights from New York to Chicago and Boston that beat the best prices we could find on Matrix ITA or Kayak, though we saw one cheaper fare to Boston on Priceline.
Skiplagged finds cheap flights by using a controversial practice known as "point beyond ticketing." Because of airline industry pricing oddities, you can sometimes actually buy a cheaper flight if it is attached to a connection you don't have any intention of taking. For example, you might buy a ticket to Los Angeles with a connection in Denver — when you really just want to go to Denver.
The practice can get you cheap flights, but isn't without its risks, including getting kicked out of your airline's frequent flyer program if you are discovered; plus, you obviously can't check your bags.
Finally, as tempting as the end-of-summer trip may be, flight prices peak between June and August, so waiting until September can save you a lot. If you've simply got to get away sooner than that, just make sure you're browsing "incognito" when you search for flights online. 
Read more: