Mike Pence's Statement on Khan Family Reveals a Problem With How Politicians View Muslims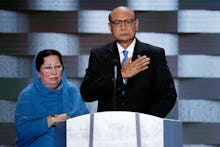 After Republican presidential candidate Donald Trump made disparaging Islamophobic remarks about Khizr and Ghazala Khan, the parents of fallen soldier Capt. Humayun Khan, his running mate Indiana Gov. Mike Pence released a statement on Facebook in an attempt to calm troubled waters.
Pence's statement reveals one big problem in the conversations about Muslims in the United States: Muslim Americans are often only recognized on the national stage within the context of terrorism. 
Here are a few recent examples in the last two weeks, during the nation's political conventions. When the Khans took the stage at the 2016 Democratic National Convention, they became a living symbol for Muslim Americans who've sacrificed their lives to defend the United States from terrorism. And Bill Clinton faced backlash for saying Muslims who "hate terror" should "stay here and help us win and make a future together" in his 2016 DNC speech. During the Republican National Convention, Sajid Tarar, the founder of American Muslims for Trump, gave the benediction prayer and prayed for an end to radical Islamic extremism. 
Despite right-wing extremists being one of the biggest threats to the United States, politicians often unfairly place the burden of fighting "radicalization" on the shoulders of the Muslim American community. They are often looked to police their own communities even when there are bigger threats out there — like toddlers shooting people. 
Pence's statement also perpetuates a very harmful myth: That there are "good Muslims" and "bad Muslims."
"Good Muslims" are those who fight terrorism either by enlisting in the U.S. military forces or engaging in counterterrorism programs. Whereas those who are critical of the way certain American policies — like the Patriot Act — discriminate or marginalize Muslims, are criminalized and viewed as "bad Muslims."
If we truly stand up for acceptance and are against anti-Muslim rhetoric, then we need to start by changing the way we talk about the Muslim American community — and actually have conversations with them.
Read More: