'Stranger Things': Will There Be a Season 2?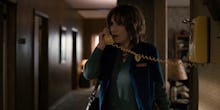 For fans of Stranger Things, Netflix's sleeper summer hit that combines '80s nostalgia with spooky stories and Winona Ryder, there are still a few questions left after finishing a binge. For one, how can one become more like breakout character Barb (Shannon Purser)?
If one can't even complete a binge, side effects may include panic — even if you're an Olympian.
But the one answer everyone who loves the show wants to know is to this question: Will there be a season two?
That answer: There will almost certainly be a second season. But it isn't guaranteed.
Netflix announced during July's Television Critics Association tour that they're taking their time with a renewal announcement for Stranger Things. The show's creators have a plan, though, and they're talking about it as if it's a certainty. They have good reason to do so, too: Netflix renews almost everything. Orange Is the New Black even got renewed for three seasons at once.
So Stranger Things season two is an obvious win for Netflix. A renewal wouldn't be a deviation from pattern. It may not be a guarantee, but fans don't need to worry. News should arrive soon enough.
Read more: