UT-Austin Unveiled a Shooting Memorial the Same Day It Began Permitting Concealed Carry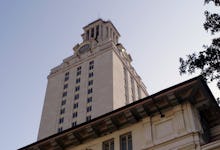 On Monday, the University of Texas at Austin observed the 50th anniversary of the school's 1966 clock tower shooting, when former Marine Charles Whitman killed 14 and injured 31 (a 15th person died years later) using a stockpile of weapons he discharged from the 307-foot tower.
The incident marked the deadliest school shooting in United States history until 2007 when a gunman killed 32 people on the Virginia Tech campus.
But on the same day the school unveiled a memorial honoring the dead, UT-Austin marked another historic event: the first day people would be allowed to carry concealed handguns on campus.
University spokesman J.B. Bird told the Wall Street Journal it was "unfortunate timing." He added, "These two events are completely unrelated, and we're keeping them completely separate."
But, for a country struggling with partisan gridlock over gun control even after 2016's more than 270 mass shootings, for many, the simultaneity speaks to a greater irony plaguing the country.
Earlier this month, three UT-Austin professors filed a lawsuit against the school and the state of Texas, claiming the new legislation forces schools to implement "overly solicitous, dangerously experimental gun policies."
"The lawsuit represents the feelings of many faculty at UT, and our lawyers are looking carefully at the arguments they are making," University president Gregory L. Fenves, who is named as a defendant in the lawsuit, told the Journal.
Antonia Okafor, southwest regional director of Students for Concealed Carry, told the Journal she sees the law as being concerned with "personal protection."
"Why is it OK for a student go to a movie theater on a Friday, a mall on Saturday and church on Sunday, and carry a concealed weapon, but when they get to school on Monday, they cannot?" she asked.
Gregory Vincent, UT-Austin's vice president for diversity and community engagement, told ABC News the administration is taking into consideration the concerns of people both for and against the law — all while keeping the UT-Austin community safe.
"We just have to have faith that the people who will carry ... will do so in a responsible way," he said.
Still, statements from administration have done little to quell the fears of the Longhorn community. In the most recent of a series of op-eds on the topic, the editorial board of the Daily Texan said on Monday they will not be silent. 
"Passing a bill with such great pushback from those who will actually suffer the consequences is enough to leave many speechless," the column read. "But today, as we gather to mourn those lost after a 'good guy with a gun' committed one of the most despicable acts imaginable, there is no room for silence."
Read more: