New iPhone Emojis on iOS 10: Single Parents, Working Women, Pride Flag & Female Athletes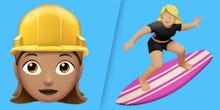 Ask and you shall receive. After years of complaints about lack of representation and diversity in emojis, Apple and the Unicode Consortium have finally created the emojis we've been waiting for. The two organizations have teamed up to create single-parent emojis, working women emojis, female athlete emojis and a pride flag emoji for Apple's next mobile operating system, iOS 10. 
The new iOS, and these emojis, will be available this fall. 
Single parents
In November we complained that there weren't single-parent emojis, an important oversight since such a huge portion of the U.S. population comes from single-parent homes. Around 34% of children in the U.S. were living with an unmarried parent in 2013, according to the Pew Research Center. 
Working women
Last December we demanded that Unicode and Apple create some emojis that represent working women. Around 40% of the global workforce is made up of women, but the female emojis were mostly dancers, brides and women flipping their hair. Soon we'll get more professional women represented in emojis. 
_____________________________________________
Read more:
Pride flag
People have been asking for a pride-themed emoji for a while now. It's finally coming. 
Female athletes 
We've been waiting for female athletes to get some representation. Just in time for the 2016 Olympics, it's happening.