It's Officially Time to Break Up With Frank Ocean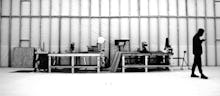 If Monday marked Frank Ocean's official comeback to the music scene, he can keep it. Seriously. Just turn off the livestream and let him saw his wood in the isolation he's cultivated for himself after ghosting his fans for a solid four years. 
After missing the proposed July 2015 release date for his forthcoming album (or new clothing line, or magazine, or novel — we're not exactly sure), Ocean has missed rumored date after rumored date and offered no official word as to what's happening. Then, finally, Monday morning, Ocean's website featured a livestream of a nearly bare room, hosted by Apple Music. Many guessed the R&B artist might finally be releasing his sophomore album. 
Instead, after an hours-long loop of inactivity, at about 9 a.m. Eastern, the Channel Orange artist entered an empty warehouse (save for a small workstation) and began sawing away at a seemingly endless stockpile of wood. 
Roughly an hour into his appearance, ethereal waves began playing underneath the sounds of saw blades and moving wood. Ocean appeared to be controlling the background noise from his phone, as if connected to Bluetooth. It wasn't clear what the music might be — whether it's off his latest album, or just random waves of noise Ocean was playing while he built some work of construction. 
There were at least two cameras in the warehouse, as the livestream switched from each angle roughly every hour or so. By 3 p.m., Ocean had left the scene, leaving the work station, piles of wood, and nothing to show to his fans who sat for hours anticipating something.
Now here we are, as the workday for those on the east coast draws to a close, with nothing to show for time spent watching the stream. To think that we didn't even get a final piece of art, or so much as a painting created by Ocean during this livestream isn't just irritating, it's exhausting. We are past the phase of sitting around idly for another project. No longer shall we be Rick-Rolled into believing Ocean is about to deliver the most beautiful album yet — even if he is. 
Sure, the stream may start up again tomorrow — or even later tonight. Maybe he'll even make the Friday release date the New York Times is reporting (though we've been down this road before). But this pantomime for publicity has gone on far too long, and has cost audiences too much of their time to expect them to return to boysdontcry.co every single day awaiting new announcements from Ocean. The only healthy option left is for Ocean's closest fans to take a back seat and wait for the music to reach them. 
Simply put: Ocean is behaving like that one Tinder date with the extremely attractive photos who seems to be a total charm. He has all the right responses, seems to be just as interested and even loves dogs — but when it comes time to set a date, it's radio silence. 
No longer shall we succumb to this nonsense. It's time to be frank, Frank: Release this album into the ether, or lose our interest. We respect a need to take one's time, but this is beyond that. Fans care, and Ocean is actively taking advantage of that caring.
Read more: