Karlie Hay and the Miss Teen USA Controversy Proves Beauty Pageants Are the Worst — Again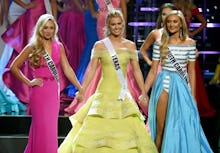 On Monday, the Miss Universe Organization announced it was going to allow Miss Teen USA Karlie Hay to keep her crown — after tweets in which she used an anti-black racial slur multiple times were revealed.
"The language Karlie Hay used is unacceptable at any age and in no way reflects the values of the Miss Universe Organization," the statement said. "As Karlie stated, she was in a different place in her life and made a serious mistake she regrets and for which she sincerely apologizes. Karlie learned many lessons through those personal struggles that reshaped her life and values. We as an organization are committed to supporting her continued growth."
The Hay incident is just the latest racial controversy with Miss USA — and pageants in general.
In June, Deshauna Barber, who was Miss District of Columbia, received racist backlash on social media when she was crowned Miss USA. Numerous users on Twitter started trolling and lambasting Barber, claiming she only won because she was black.
These incidents should be too surprising. Since their inception, modern beauty pageants have had a storied history dealing with race and the contests. "Atlantic City's Inter-City Beauty Contest" — now known as "Miss America" — didn't allow black women to participate for years after it first started in 1921. 
During the 1950s, beauty pageants were also used to promote segregation in the Jim Crow South. Blain Roberts, an assistant history professor at California State University in Fresno, wrote in 2013 that Miss America and other pageants were used as a public relations tool to amp up white resistance against the Supreme Court's Brown v. Board of Education decision in 1954. 
"Southern Miss Americas also symbolized what was at stake in the battle over desegregation: the possibility of interracial sex," Roberts wrote in an op-ed for the New York Times. "Their scantily clad bodies splashed across newspapers nationwide, young white women were the Southerners who would supposedly suffer most if schools were integrated. They would become vulnerable to black men in other public facilities as well, especially swimming pools."
Black women were prohibited from competing in Miss America until 1970 when Cheryl Brown, or Miss Iowa, became the first African-American to compete. It wasn't until 1984 when the first black woman — Vanessa Williams from New York — won the contest in 1983. Unlike Hay, Williams was stripped of her title when Penthouse, a men's magazine, released nude photos of her without her consent. It wasn't until Sept. 13, 2015, more than 30 years later, that Miss America apologized for stripping Williams of her crown.
Also in 1983, Deneen Graham, a ballet dancer, returned home to find a burning cross on her lawn after being crowned Miss North Carolina. She was the first black woman to claim that title.
Aside from the blatantly racist incidents that have surrounded pageants, the standards of beauty forced upon these contestants are discriminatory as well. Just look at the top five winners of Miss Teen USA. They all eerily look alike with their white skin, blonde hair and light eyes. 
Some women of color believe it's impossible to compete in beauty pageants without conforming to Western beauty standards. For a lot of black women that means chemically relaxing their hair and even lightening their skin.
"Some of my friends told me that my natural hair made me different and it would get me noticed," Christa Brown, a black woman who competed in the 2014 Miss Massachusetts pageant, said in a Seventeen essay. "But others thought Miss Massachusetts wasn't ready for a girl with natural hair, so I might as well conform."
In practice, pageants also exclude women who come from middle to lower income households. Entry fees for participating pageants for toddlers to the adult level can range from $400 to well over $1,000. For pageants like Miss New York USA, entry fees can go up to $1,800, and that doesn't include the cost of transportation, makeup, hairstyling, gowns and training. Some personal coaches charge $100 or more per hour, the International Business Times reported. Pageant contestants are considered very lucky if they have sponsors foot their bill, but often contestants have to pay it out of pocket, have their parents provide the funds or just place the bill on a new credit card. 
Beauty pageants often tout their scholarships and community service, but how much good can come out of a tradition that perpetuates racism — and then condones it?
Read More: