Here's How to Go Hyper-Local Through Immersive Travel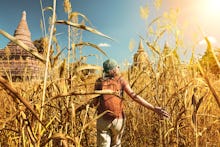 For young people longing to see the world in the days before digital, traveling meant staying in a hostel, thumbing through a guidebook, and shortlisting a few places of interest you could actually get to during the course of your stay. Inevitably, though, after eating at several restaurants listed under the "recommended" section, you'd begin to realize that the only other people eating there were other tourists.
Thanks to the sharing economy, travelers now have a variety of ways of finding — or losing — themselves in immersive experiences. New travel startups are providing unique ways to let you embed with local communities and enjoy the culture in a truly authentic way.
Dis-Lodge. The first step to hyperlocal immersion is skipping the standard hotel experience and going with residential accommodations.
With 2 million listings in 191 countries, Airbnb is a go-to option for booking a room in someone's home, if you're traveling alone, or the whole apartment/house, if you're traveling with family or friends. You can stay at a variety of places, from a mobile home to a beach house — even a castle!
Similar services including HouseTrip.com, HomeAway.com and Homestay.com are straightforward, user-friendly and easily navigable. Sites like Knok.com and VRBO.com are great for large groups of 4 or more, while misterbandb.com provides accommodation for LGBTQ travelers looking to "stay like a gay local."
Scrapping the hotel is not only cost-effective, it gives you a uniquely intimate experience, including the opportunity to interact with your hosts about the best places to visit, inquire about what's going on in the neighborhood, and learn the best places that locals love to frequent.
De-Tour. If you want to go hyperlocal, you gotta go off-road. 
Sites like GuideTrip.com offer unique, curated tours for the adventurous traveler looking for something different. Instead of visiting the typical run of famous monuments, these tours are experiential.
Take a safari through the Judean desert near Tel Aviv. Try sand-boarding in the largest dune system in Australia. Take a spice market walk through New Delhi followed by a cooking class, or a haunted ghost walk alongside paranormal investigators in Egypt.
Other tour operators have created their own brand of excursions for travelers who would prefer to skip the lines and the tour buses altogether. ContextTour touts itself on creating peripatetic seminars for the intellectually curious traveler, such as a walking tour through Parisian mansions with a local historian or wine tasting in Tuscany with a sommelier.
For the weekend wanderer, 48houradventure recommends short-term travel options for time-strapped city dwellers.  Whether you're a burned out office worker who needs to get the hell out of town before the next stressful work week or you haven't saved up enough paid vacation days, there are still ways to step off the hamster wheel and into a transporting experience.
Digest. No matter where you stay, or what your itinerary looks like, you can't say you've truly experienced a place until you've eaten its fruits. You can go beyond simply tasting the local cuisine in restaurants by heading straight for the kitchen.
Cookening.com is a website for travelers who want to learn more about the culture of the place they are visiting, and meet locals who understand the traditions of its food. Offering meals with local chefs in Paris, Lyon, Toulouse, Spain, Rome, Florence, Amsterdam, New York and London, the site allows you to visit the home of a local and have him or her cook for you. It could be simple or gourmet, in a family house or a Parisian apartment, a shack on the beach or an artist workshop, but an excellent way to experience authentic, local flavor is by joining the cooks in the kitchen. 
You can preserve your culinary adventures and take them home with you by actually learning how to recreate the memorable meals long after you've returned. A cooking class is a perfect way to, um, marinate in the culture. By learning your favorite dish, you can revisit those chocolates in Saint Lucia, or the pasta in Florence.
Mission Driven. Ultimately, to travel immersively is to travel with a purpose. So try giving yourself a mission.
It doesn't have to be about building homes for the homeless, but traveling with a purpose can enable you to engage with the local population beyond a value exchange of goods and services. Shared meals, shared ideas, shared goals and shared experiences all help provide unparalleled experiences of local immersion.
You can join researchers tracking manatees in Belize, assist conservationists saving sea turtles in Costa Rica, or help South African non-profits protect big cat reserves. You can help improve the health and well-being of communities in the Dominican Republic, engage in a cultural exchange with the people of Cuba to rebuild bridges of understanding, make a difference in the lives of ancient Peruvians while going deep into the culture of the Andes.
Because, after all, travel isn't just about how much ground you can cover, how many miles and meals and museums you can tick off your checklist. It's about how deep you can go.