Debt from a for-profit school? You might qualify for student loan relief or forgiveness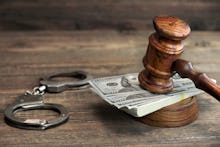 In case you'd figured it couldn't get any worse, the student debt crisis in the United States has a disappointing new twist.
Hundreds of thousands of students who attended fraudulent for-profit colleges may have money owed to them — but many students aren't claiming theirs, likely because they don't even realize they can.
While some former students have grown wise to the situation, most student loan borrowers in general (defrauded or not) don't realize their rights and options. That's partly the fault of the U.S. government, which hasn't been very effective in publicizing debt relief programs, according to a new report from the Century Foundation, a think tank focused on mitigating inequality.
Borrowers who attended for-profit schools can actually get their debt completely forgiven if they are able to prove their college used illegal tactics to recruit them: In some cases, for example, schools have lied about how much their graduates earn, the Wall Street Journal reported. 
But many victims who need help don't know about federal programs that can provide them with relief, including income-based repayment plans and the public service loan forgiveness program.
"Basic design flaws and challenges in promoting these options are presenting barriers for many of the borrowers who need assistance the most," Century Foundation president Mark Zuckerman wrote.
One of the most well-established for-profit education companies that has gotten in trouble is Corinthian Colleges, Inc., which operated three schools: Herald, Everest and WyoTech. Former students of these CCI schools can now receive debt forgiveness through the Department of Education: The government has already forgiven more than $73 million as of the end of June.
While that number may seem high, it should actually be much higher.  
The Department of Education says it has reached out to 55,000 former Herald students to let them know about their options via email and postal mail. But only 8,079 students have made claims: Just 15% of the total number eligible.
The numbers for Everest and WyoTech are even lower. The government attempted to reach 280,000 of former students at those schools, but only 15,106 have submitted claims — just 5% of those contacted.
Student advocates say the government is not doing enough to address the problem.
"Their job is not just to collect money — it's to tell borrowers about their rights and options," Pauline Abernathy, Institute for College Access and Success vice president, told BuzzFeed. 
While the government has attempted outreach via mail, it has yet to stop the problem at its source, Abernathy said, by getting debt collectors to contact borrowers directly and tell them clearly if they are eligible for relief.
If you went to a school affiliated with CCI, you can find out if you're eligible for debt forgiveness here on the government's student aid website.
And if you attended a different school, you may still be eligible for another type of loan repayment assistance.
Read more: