8 healthy travel snacks every jet setter should stock up on before a big trip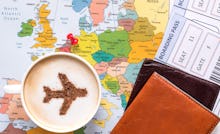 Eating healthy isn't the easiest thing to do when traveling the world. Airports and train stations are usually filled with delis and fast food chains selling subpar sandwiches and greasy sides. And no one wants to be the person lugging a cooler full of produce and yogurt around (in any case, Customs would probably stop you if you did). 
But healthy eating while jet setting isn't impossible: With a little bit of prep work and some pre-planning, it's relatively easy to snack smart, even when you're literal oceans away from your kitchen. Instead of turning to convenience items loaded with preservatives and all kinds of other weird junk, load up on some of the following snacks below, all of which can keep for a long time and require no heating up or refrigeration.
1. Nut Butter Packets
Nut butters are great paired with crackers, fruit or even just squeezed straight into your pie hole. These single serving packets by Justin's Nut Butters are super portable, light and don't require a spoon. The packets are available in flavors like classic peanut butter, vanilla almond butter and even chocolate hazelnut butter (aka the company's take on Nutella). 
2. Dried Mango
Dried mango is an ideal snack for sweet toothers who want to keep it healthy. Unlike other fruits, mango takes on a fruit leather-meets-Fruit Roll-Ups texture when dehydrated. Peeled Snacks offers a bagged version of the snack that is simply dried organic mango — there's no added sugar or preservatives. 
3. Tuna Packets
4. Hummustir
Typically, hummus requires refrigeration. But thanks to a company called Hummustir, that is no longer the case. The brand makes tubs of the chickpea spread that just need to be stirred together to come to life. The product is 12 ounces, however, so it might be prohibited in a carry-on, but it will hold in your luggage. Pair it with crackers or veggies for a satisfying snack you can eat in your hotel room.
5. Enlightened Beans
Potato chips rock, but they don't offer any real nutritional benefits. Plus, they're prone to crumbling when stuffed into a backpack. Avoid crushed chips and empty calories by reaching for these roasted broad beans by Enlightened, which will satiate any salty craving. Each single serving packet offers up a whopping seven grams of protein and three grams of dietary fiber, too, meaning it will help keep you full. 
6. Homemade Trail Mix
Trail mix is the classic travel snack. It's hard to go wrong with the sweet-and-salty combination of nuts, seeds, dried fruit and chocolate. While you can easily purchase bags of trail mix at virtually any store, making your own is often cheaper and more customizable, meaning you can skip the processed bites and replace them with no sugar-added dried cherries, hearty pumpkin seeds and dark chocolate for a sweet, healthy boost. 
7. Roasted Chickpeas
Roasted chickpeas are a simple, fiber-packed snack you can whip up at home. Toss cooked chickpeas (these are readily available in a can) with a little bit of oil and spices and seasonings like curry powder and garlic, then simply roast them in the oven until crunchy, and you've got yourself one addictive snack. 
8. Dates
There are people who refer to fruit as "nature's candy," but there are few fruits that embody that phrase quite like dates. Naturally sweet and sticky, but loaded with nutrients, the dates are great on their own or slathered with nut butter. (Pro tip: Pair a few with a portable nut butter packet.) Best of all, the dates won't melt and require no utensils to enjoy.
Read more: