How to Change Your Facebook Profile Picture to Your Country's Flag for the Rio Olympics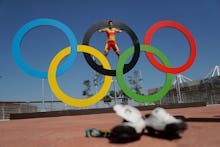 The 2016 Olympic Games in Rio de Janeiro open on Friday, and that means it's time to be patriotic. If you're already going to the games, you're good — thanks for supporting your country's aspiring medalists. For everyone else, it's time to find ways to show your colors.
Here's how to pull off the easiest one: updating your Facebook profile picture.
1. Find a website that offers filter overlays on original photos.
We used Rainbow Filter, which allows you to search for your country's flag in its list of filters. It's not necessary to give the site access to your Facebook or Twitter account; just hit "American flag and USA filter!" or, if you aren't from the USA, hit "more profile picture filters!" and search for your country's flag.
2. Take your Facebook profile photo and drag it to your desktop.
3. Click on the filter for whichever flag you chose, and the website will allow to you select your profile photo from your desktop.
4. Hit the "download picture" button, and then upload your new profile photo to Facebook.
5. That's it! Enjoy the games.
Read more: