After the Pulse Shootings, A Muslim Clothing Store in Orlando Is Reborn as a Safe Space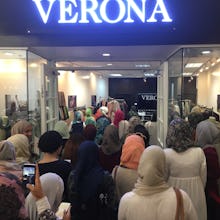 Before June 12, Verona was known as one of the first stores catering to the religious and fashion needs of Muslim women ever to open in a major U.S. mall. On its opening day this May, hundreds of women poured in and scoured racks upon racks of clothing ideal for modest-dressers.
There were blouses with long sleeves that weren't sheer, pants and skirts that went all the way past the ankles and scarves that could be crafted into hijabs. Verona grew a successful business by making stylish and inexpensive modest clothing for Muslim women, going from just a popular e-commerce store in 2015 to having a brick-and-mortar location in one of the major tourist destinations of the world by 2016. 
"I was the one standing right by the doors and it looked like you opened up a dam and literally a flood of people poured in," Nadine Abu-Jubara, one of Verona's co-owners, said in an interview with Mic. "It literally looked like I had opened a gate, and you couldn't even walk around the door. There was a lot of excitement that day. Just about everyone in the community was there."
They were excited because, for some of them, this was the first time they had ever been to a store that was stocked with the exact kind of clothes they needed.
"I just wanted to be able to give my community or anyone who dresses modestly a place they can go to in a mall," Lisa Vogl, one of Verona's other co-owners, told Mic. "Even though it is a business decision, it's something that I wanted to give back to the community." 
But after June 12, the day that Omar Mateen opened fire in Pulse, a gay nightclub in Orlando, Florida, just a 10-minute drive from Verona, the store's purpose shifted a bit. Now, the store would not only offer Muslim women clothing, but a sense of safety and community as well.
According to Vogl, she first heard the news of the shooting in the early morning hours of June 12, when she was at the gym. After receiving calls from some of her employees, and even some of her employees' mothers, she knew that Verona had to react accordingly, especially since the shooter himself was Muslim. 
"I started getting calls from my employees and my employees' mothers that said, 'Hey, this is really serious,' so we closed immediately," Vogl said. "The first concern was the safety of our employees. We closed for about three days. We did it within hours of the news breaking. When an event like that occurs, there's always backlash against Muslim women and Muslim women that cover."
For the next three days, with Verona's doors shut, Vogl and Abu-Jubara attended memorial services and vigils around Orlando to show their solidarity with the LGBTQ community, since queer people of color had been targeted by Mateen in the attack. It was a reminder to them that although Orlando has an incredibly diverse population with a large Muslim community, there are still racial and religious conflicts. 
That's a fact that Vogl had thought about before even opening Verona. "I was quite concerned about some backlash," Vogl said. "At the same time, I thought I'm strong in who I am, so I didn't want that [hate] to deter me from accomplishing my goals. That being said, we did get a few phone calls. The mall got a few phone calls, and we do get dirty looks from time to time." 
Understandably, Vogl and Abu-Jubara, who are both Muslim, were hesitant about reopening after the Pulse shooting. But the response they had gotten from non-Musims in Orlando after the shooting only showed that their store had more of a purpose being in that mall than ever before. 
"When I would go to the different vigils, it showed who we are as a community," Abu-Jubara said. "I've gotten more people go out of their way to express how they now, more than ever, love us." 
By having a store like this in a mainstream mall, nudged between a JCPenney and Dillard's, Verona's presence allowed people of all races and nationalities to see what modest dressing is — it can be as much of a fashion statement as a part of a religion. This will hopefully help remove the stigma against Muslim women who do cover. Abu-Jubara and Vogl also welcomed the idea of Verona being a resource for anyone who was curious about Islam and its many traditions. 
"That's the most rewarding part about this whole thing. I want us to be a company that has open doors to anyone who wants to know more about us," Vogl said. "Muslim women are seen as oppressed. But really, we're these outspoken, college-educated businesswomen out there being successful. If we can just change people's mindsets as to who we really are, then I'll feel great." 
"We have so many people that come in and want to know, you know, 'What is a scarf?'" Abu-Jubara said. "You can ask us a million questions. I think in general since we've opened, we've gotten a lot of that."
In terms of a safe space for Muslim and modest-dressing women, Vogl and Abu-Jubara know that that goal is more important than ever before. Before the Pulse shooting, the Muslim community was active, but diffuse. With Verona, they got a meeting place. 
"Verona is that neutral ground bringing this diverse Muslim community together," Abu-Jubara said. "Most women love to shop. They love to hang out with their girlfriends. I think the majority of the Muslim women in Orlando are the same. They want to have a safe space in order to enjoy themselves." 
However, despite the positivity Verona's been able to bring to both Muslim women and non-Muslim people asking questions, the aftermath of the Pulse shooting carries some harsh realities. 
In order to make sure their customers are safe, the mall has amped up security. During our 30-minute interview with Abu-Jubara, she said that three security guards had already walked by the store. 
Nearly two months after the Pulse shooting, and three months since Verona opened, it has stood as a reminder in Orlando of who Muslim women are and what they want, which is really no different than anyone else. They want to find clothes that fit. They want to find clothes they like. They want options. They want quality. And, most importantly, they want to feel safe. 
Thankfully, Verona has been there to give them all of the above. 
Read more: