Marco Rubio to Spend Two-Month Anniversary of Pulse Shootings at Anti-Gay Conference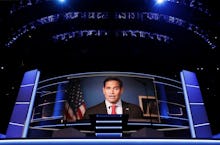 On the night of the two-month anniversary of an armed assault that killed 49 people at Orlando, Florida, gay nightclub Pulse, Florida Sen. Marco Rubio will be attending a conference in the city organized by anti-gay extremists.
The "Rediscovering God" conference on Aug. 11 and Aug. 12 is hosted by the Florida Renewal Project, an offshoot of the evangelical American Renewal Project and Liberty Counsel. Rubio is the headlined speaker alongside a slate of anti-LGBT activists including "David Barton, Bill Federer, Ken Graves and Mat Staver," according to Right Wing Watch.
All four of the above speakers have referred to homosexuality as destroying the social and political fabric of the United States and are prominent opponents of gay marriage. Staver in particular once referred to memorial programs for the victims of the Orlando shooting at various churches as having devolved into "a homosexual love fest."
_____________________________________________
Read more: 
_____________________________________________
The Miami New Times referred to Liberty Counsel as a "virulently anti-gay Christian group" and noted American Renewal Project head David Lane once "argued that God would punish homosexuals praying at President Barack Obama's 2013 inauguration with 'car bombs,'" among a host of other heated charges such as homosexuality being a "Marxist psychological conditioning plot."
Rubio was not among his Republican colleagues in Florida who initially refused to acknowledge the June 12 massacre was a targeted attack on Orlando's LGBT community (though their numbers included the state's governor, Rick Scott). But he did invoke the attacks as an example of "the way radical Islamists have treated gays and lesbians in other countries ... it is a reminder that the war on terror has evolved into something we have never had to face before: individuals capable of carrying out attacks like these, with these numbers, in places you have not seen before."