Vice President Joe Biden Officiates Same-Sex Marriage for White House Staffers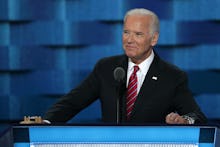 Add this to the list of reasons it'll be sad to see Joe Biden leave the White House: On Monday, the vice president officiated a same-sex wedding between two White House staffers.
The lucky grooms were Brian Mosteller and Joe Mahshie, BuzzFeed reported. Mosteller is the director of Oval Office operations, and Mahshie's LinkedIn profile reportedly says he's a trip coordinator for first lady Michelle Obama.
It was Biden's first time officiating a wedding, according to BuzzFeed. The VP reportedly secured a temporary certificate for the ceremony after the couple asked him to marry them. 
The ceremony occurred at 4 p.m. at the vice presidential residence. Biden shared a sweet photo of the ceremony on Twitter, writing that he was "proud to marry Brian and Joe at my house."
On a 2012 episode of Meet the Press — three years before same-sex marriage became legal nationwide — Biden said he was "absolutely comfortable" with same-sex marriage, Politico reported.
When asked if his views on same-marriage had evolved — as President Barack Obama's had — Biden reportedly answered:
"I am vice president of the United States of America. The president sets the policy. I am absolutely comfortable with the fact that men marrying men, women marrying women, and heterosexual men and women marrying another are entitled to the same exact rights, all the civil rights, all the civil liberties. And quite frankly, I don't see much of a distinction beyond that"
Now, tell me: How do I add this to my wedding Pinterest board?
Read more: