Justin Bieber Blasts Taylor Swift on Instagram While Facetiming With Kanye West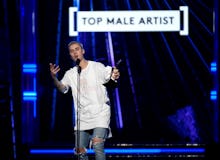 The sun hadn't even risen on Tuesday morning, and Justin Bieber was already throwing all the shade. The Canadian-bred hitmaker was up apparently Facetiming with Kanye West and pals and decided to snag a screenshot. When he uploaded the friendly exchange to Instagram, he captioned the photo "Taylor Swift what up."
This is Biebs' first nod to Swift's controversial battle with West and his wife Kim Kardashian West, who pulled the ultimate receipts after the "Bad Blood" singer lied about never having spoken to West about his song "Famous."
It's a victory West has been exulting in for weeks.
"I am so glad my wife has Snapchat, 'cause now y'all can know the truth!" Kanye told a Chicago crowd on July 28th. "And can't nobody talk shit about Ye no more."
Meanwhile, Swift hasn't spoken out since the night she accused West and his wife of "character assassination," after having lied repeatedly about West never asking permission to use her likeness in his music.
It's clear whose side of the story Bieber sympathizes with, but it's odd he would choose to insert himself in the middle of this drama so late in the game. Perhaps he's looking to provoke a response from Swift, who's stayed abnormally silent since the drama began, or it's yet another attempt to distance himself from his "Baby" pop roots.
Whatever his reasoning, Bieber may have just earned himself a nod on Swift's next "Bad Blood" revenge track.
Read more