Dylann Roof's Lawyers Think the Death Penalty Is Unconstitutional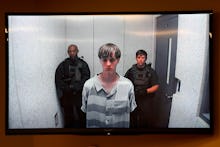 Lawyers for Dylann Roof, the man who shot and killed nine black men and women at a church in Charleston, South Carolina, filed a motion to challenge the federal government's ability to seek the death penalty for their client, saying the punishment would be unconstitutional.
"[T]his Court should rule that the federal death penalty constitutes a legally prohibited, arbitrary, cruel and unusual punishment prohibited by both the Fifth and Eighth Amendments," Roof's defense team wrote.
The filing Monday came only after the court rejected Roof's offer to plea guilty, which would give him multiple life sentences in prison with no chance for parole, according to the 34-page motion filed by the three attorneys for Roof. "[T]his motion ... is being filed solely as a result of the government's decision to seek the defendant's execution rather than accepting his proffered pleas of guilty," they wrote.
Roof's lawyers also challenged how the jury for Roof would be selected. In instances of cases that would permit the death penalty, the process is called "death qualification," or finding a jury willing to condemn someone to death. According to the motion, people who conscientiously object to the death penalty are "systematically excluded prior to selection of the petit jury that will decide the defendant's case."
Last year, Roof was accused of killing worshippers, aged 26 to 87, during a prayer service at the Emanuel African Methodist Episcopal Church in Charleston. In May, the Justice Department declared it would seek the death penalty for Roof's actions, calling his attack a carefully planned, racially motivated massacre.
Read more: