Kesha drops sexual assault lawsuit against Dr. Luke to focus on new music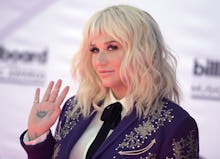 Kesha's ongoing legal battles with longtime producer Dr. Luke has been one of the most continually demoralizing stories in music since it began October 2014. The pop star has suffered defeat after defeat in the court room as she's tried to break contract with the man she's accused of verbal, physical and sexual assault. 
It now seems she's scaling back her case, at least for the moment. According to Buzzfeed News, the singer has dropped her sexual assault charges against Dr. Luke in California, in order to focus on the case she has going in New York. She'll also likely be returning with new music for her animals soon.
"Kesha is focused on getting back to work and has delivered 28 new songs to the record label," lawyer Daniel Petrocelli told Buzzfeed in a statement. "We have conveyed to Sony Music and the label Kesha's strong desire to release the single and an album as soon as possible."
Kesha has been gradually edging her way back into music over the past few months. In April, she appeared on a remix to Zedd's "True Colors," and in May she performed Bob Dylan's "It Ain't Me Babe" at the 2016 Billboard awards. 
In July she announced a small club tour across the United States this summer to perform classic rock covers and new music with a new project Kesha and the Creepies. 
The releases have been a welcome break from the silence Kesha has maintained since her last album Warrior, which dropped in 2012. New music may also help her case to appeal the two New York State Supreme Court decisions.
If Dr. Luke's label fails to release the new music, it could be viewed as a breach of contract — on Dr. Luke's side.
"A lot of recording agreements have a 'release agreement,' so if that is the case, it would empower her to take action — to demand that it be released, at least that it would be counted," entertainment attorney Laurie Soriano told Buzzfeed.
Meanwhile, Dr. Luke's lawyers stand firm that none of Kesha's claims of his sexual, verbal and physical assault were ever true. "Kesha never should have brought her false and meritless claims against Dr. Luke in any court," lawyer Christine Lepera told Buzzfeed News. She also said Kesha decided to drop her charges since "she has no chance of winning them." 
Kesha's supporters, which include former Dr. Luke collaborator Kelly Clarkson, Lady Gaga and scores of other pop icons, will have to wait until the New York courts reconvene to see if Lepera's words hold true.
Read more