Korryn Gaines, a 23-Year-Old Black Woman, Shot and Killed by Baltimore County Police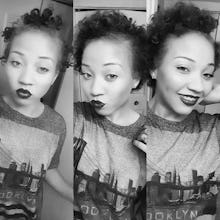 Korryn Gaines, a 23-year-old black woman, was shot and killed by Baltimore County Police officers Monday after an hours-long standoff that also left a 5-year-old boy with a gunshot wound. 
According to reports, the boy was taken to the hospital and is expected to survive. Authorities say it is unclear who shot the boy. Jermaine Bennett, Gaines' uncle, told the Baltimore Sun the boy is Gaines' son.
"We are of course extremely upset at an event like this," police spokeswoman Elise Armacost said at press conference, according to NBC News. "We do not like to be in a position of having to use lethal force, but this was a situation where our officers exercised patience for hours and hours."
The confrontation started Monday morning after three Baltimore County police officers arrived at an apartment complex in Randallstown, Maryland, to serve arrest warrants to Gaines and another man. Gaines was wanted on a bench warrant for disorderly conduct and resisting arrest, both charges related to a traffic stop from March, per reports. The man was wanted for assault. 
When police arrived, they attempted to gain entry to the apartment using keys given to them by the landlord. They allegedly saw Gaines pointing a rifle at them, and retreated and called for tactical support. The man in the apartment, who still has not been publicly identified, attempted to leave with a 1-year-old child. Police apprehended him. Officers then reportedly spent hours trying to negotiate with Gaines, who had barricaded herself inside the building.
At one point, Gaines allegedly pointed the gun at a police officer and said, "If you don't leave, I'm going to kill you." The officer opened fire. Gaines shot back twice, then was killed.
Gaines' death comes at a time when police killings of black men and women regularly make news headlines across the United States. According to the Counted, a database from the Guardian that tallies these killings, 155 black people were killed by officers in 2016 before Gaines. Black people are also more than twice as likely to be killed by police officers than white people — a phenomenon that has fueled a nationwide protest movement against police violence, united under the banner of Black Lives Matter.
It has not traditionally mattered whether black people killed by police were armed or unarmed. They have been killed regardless, and their killers are rarely brought to justice. But in recent weeks, two high-profile shootings that claimed the lives of two armed black men — Alton Sterling in Baton Rouge, Louisiana, and Philando Castile in Falcon Heights, Minnesota — have raised questions about whether black people are treated equally to whites under the Second Amendment, which protects their right to bear arms.
The National Rifle Association — one of the nation's most powerful pro-gun lobbies — is notoriously silent when black people, armed or unarmed, are killed by police officers. This despite very vocally opposing stronger gun control regulations after mass shootings, like the one in Sandy Hook, Connecticut, that claimed 26 lives in 2012.
The officers involved in Korryn Gaines' death have been placed on administrative leave, according to reports. An investigation into the incident is ongoing. 
Read more: