'Bachelor in Paradise' Spoilers: Which Contestants Will Be the Most Dramatic?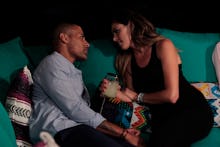 Now that The Bachelorette is done and The Bachelor is still a ways away, what will fans do to occupy the rest of their summer? Watch something besides Bachelor properties? Don't be ridiculous: Bachelor in Paradise season three premieres Tuesday night!
A replacement for the failed Bachelor Pad spin-off, Bachelor in Paradise essentially serves as a second chance for a bunch of former Bachelor and Bachelorette contestants to find love. They all travel to a tropical locale, the last two seasons were set in Mexico, flirt, date, drink and fight. Oh, yes; they fight a lot.
On Monday night's Bachelorette: After the Final Rose special, host Chris Harrison promised maximum drama. Below, we've selected the four contestants we think will spur the most drama this season. They're all familiar faces who caused stirs in their own seasons; the test will be to see whether they can churn up drama once again this time around.
(Editor's note: We're actually gonna delve into some rumored spoilers for the show, so turn back now if you don't want to know potential details about eliminations and romances.)
Leah, The Bachelor season 20
Truth be told, Leah didn't really do anything interesting for the majority of Ben Higgins' season of The Bachelorette. While people like Lace and Olivia were causing drama, Leah was almost a non-entity. Then came the trip to the Bahamas in episode six, and Leah broke out from the pack — in the absolute worst way. She accused eventual winner Lauren B. of being fake, but provided no evidence of such. Confused by her sudden turn for the dramatics, Ben sent her home.
We need that drama this season. According to rumors from well-known Bachelor spoiler factory Reality Steve, Leah comes to Bachelor in Paradise specifically looking for Chad this season. What kind of fireworks will they create together?
Nick, The Bachelorette seasons 10 and 11
Nick had the unique misfortune of being dumped at the very last second by not one, but two Bachelorettes: Andi Dorfman and Kaitlyn Bristowe. He cried a lot and has a seemingly infinite number of siblings. 
But his move to Bachelor in Paradise makes him the Tiffany "New York" Pollard of the Bachelor universe: rejected at the last second twice, now trying to find love on a spin-off series. Say what you will about New York: She makes for great TV. The same will hopefully be able to be said for Nick on this show.
Lace, The Bachelor season 20
Queen Lace spent three weeks of Ben's season of The Bachelor demanding that he make eye contact with her, swilling wine and pissing off the other contestants. She was a whirlwind of attitude who withdrew from the competition in a blaze of glory. Lace was perfect, truly too good for The Bachelor. Watching her tear through the men on Bachelor in Paradise is honestly what we're looking forward to most.
Chad, The Bachelorette season 12
Oh, Chad. The breakout star of this season of The Bachelorette is back for more — though maybe not much. According to Reality Steve's sources, Chad actually gets kicked out after the first episode for causing fights and even calling Lace names. In a promo aired during last night's finale, he's even heard saying, "Fuck you, Chris Harrison." If the rumor is indeed true, Chad is The Bachelor's brightest star: burning bright, but also flaming out far too fast.
Read more: